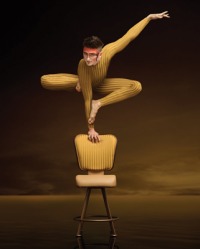 Most chairs are designed to fill a space. Gasser chairs are designed to elevate it. For more than 67 years, Gasser Chair has been designing, building and perfecting the art of commercial seating, using only the highest quality materials. The purchase of a Gasser chair is an investment in style, innovation and durability that will be a better value over the long run. Artfully designed, beautifully executed and built to endure, Gasser chairs don't merely perform; they dazzle.
Artisanship that runs deep in the fabric:
The beauty of a Gasser chair is more than skin deep—it runs through the entire company from design to construction to customer service. It's a forte that's been 67 years in the making.
Critically acclaimed design and workmanship:
Casinos make customers feel welcome. Gasser Chair makes them feel comfortable. Beyond just looking good, Gasser chairs offer unparalleled comfort and support. It's this fusion of form and function that ensures a virtuoso performance every time.
A flair for design that defies wear and tear:
More than just standing out, Gasser chairs are designed to stand up to virtually anything that can be thrown at them. Made from only the highest quality materials and built to last, Gasser chairs retain their panache long after others have fallen from grace.
Custom solutions to let the imagination soar:
A casino's areas of operation come in all different shapes, colors and sizes, and so do Gasser seating solutions. Gasser Chair is not one to provide cookie-cutter solutions to complex challenges. Let the imagination soar and let Gasser custom-design something specifically to a customer's needs.
Gasser Innovations:
From the earliest days of its business, product development and improvement were the constant challenges. Not surprisingly, it was simply listening to customers that provided the opportunity for many of Gasser's successful innovations.
Gasser Chair Company is a family-owned business based in Youngstown, Ohio. The second and third generations of the Gasser family, teamed with some of the finest skilled people in all aspects of the business, are guided by the founders' original principles.Together they continue the tradition and philosophy of developing innovative solutions to customers' seating requirements and skillfully manufacturing the finest quality seating.
All of Gasser Chair's products are designed and made in Ohio. The majority of the materials used are purchased locally, reducing Gasser's footprint on the environment.
For more information, visit www.gasserchair.com.