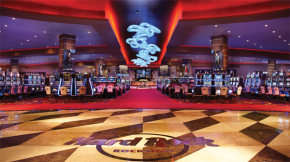 As casinos continue to transform from gambling hotspots to entertainment destinations, tribal casinos are on the forefront of this trend, using their unique geography and regional pull to land a completely new type of guest for 2015 and beyond.

"When guests come here and see everything that we have to offer in person, it changes their perspective of what we are to them," says Holly Gagnon, president and chief executive officer of the Pearl River Resort in Mississippi, operated by the Choctaw Resort Development Enterprise.

"We are within driving distance of Birmingham, Memphis and New Orleans, so it was important that we transformed ourselves into a doable getaway so guests can have a experience uniquely fine travel experience influenced by the Choctaw's culture and people."

For the Kalispel Tribe and Northern Quest Resort and Casino in northern California, a concentrated effort has been made to create various non-gaming amenities that work to both diversify and complement the gaming operation.

"We have found that what is truly important in this day and age is diversification," says Kyndra Gamache, spokeswoman for the Kalispel Tribe and Northern Quest Resort and Casino. "To sustain ourselves the long run, we are always looking for new opportunities that provide growth in non-gaming areas. Progress is important both in the context of Northern Quest Resort and Casino and in the community at large, but always with an eye on what makes sense with current market conditions and regional saturation levels of amenities."

Northern Quest Resort and Casino has learned how to operate smarter and more efficiently while making every amenity stand on its own in terms of sustainability.

"We have learned to look at our non-gaming amenities not just as loss leaders, but as an important and profitable part of the overall property experience," says Gamache. "One of the guiding principles of the tribe has been to dream big, and dream differently.

"Our aim from the beginning was not only to create a profitable gaming environment, but to create a property with amenities that are best in class and present a substantial draw for guests and attract visitors to the region as a whole."

For the San Manuel Band of Mission Indians, a diverse economic base includes identifying real estate opportunities and having a keen sense of business entrepreneurship to stimulate revenue. San Manuel is primarily interested in a diversified economic base beyond gaming to add direct community benefits through its business ventures.

This includes San Manuel Village, a 12-acre mixed-use development project located within the jurisdiction of the city of Highland, California. San Manuel served as developer for this commercial real estate investment project, which is located less than five miles from the San Manuel reservation. The property includes a hotel, restaurants, retail and commercial space, and professional offices.

"In the case of San Manuel Village, building a sustainable center for new businesses in the nearby city of Highland has been a process of helping existing, local businesses expand their successful business model to serve a growing community," says Lynn Valbuena, chairwoman of the San Manuel Band of Mission Indians. "We continue to look at new economic opportunities both on and off the reservation as part of our overall efforts."

In New Mexico, the Hilton Santa Fe Buffalo Thunder has decided its marketplace lies in the resort and recreation sector. Located amid the dramatic scenery of northern New Mexico's Pojoaque Valley, the property boasts Towa Golf Club, three independent nine-hole courses that challenge golfers with dramatic elevation changes, seasonal weather conditions and scenery of extraordinary beauty.

Towa Golf Club offers a top experience for golfers of all levels, allowing for even more revenue to the tribe. The golf course even offers a practice facility featuring a driving range situated so players will never find the sun in their eyes. To further enhance the experience, two putting and chipping practice greens are also located on site.

"Adding non-gaming revenue has always been a long-term vision for our property," says Gene Stachowski, executive director of corporate marketing at the Hilton Santa Fe Buffalo Thunder. "We want to use our large ballroom for events and concerts, VIP parties and even a cigar lounge as much as possible. We make sure, when we talk to our guests and the media, they know we are not just a place for casino gaming."
Pearls of Wisdom
For Gagnon and the Pearl River Resort, their transformation into a non-gaming destination is a sign of success and their ability to serve multiple markets to increase revenue.

"We have a large number of gaming customers from Alabama who are interested in slot and table games and want the quintessential casino experience, and we provide that," says Gagnon. "But we also have a large base for family entertainment, which came when we built our water park. We bill ourselves as a fun getaway for the family, and our motto is that we are the 'beach within reach.'"

The water park at Pearl River Resort is accompanied by a golf course, providing further reasons for residents from Birmingham, Memphis and New Orleans to make the short drive to the property. In July, Pearl River completed a renovation project for 300 hotel rooms, further adding to its non-gaming revenue.

"In three years, we have refinanced our balance sheet, and our future financial success is very much tied to non-gaming revenue," says Gagnon.

As the only fully land-based resort in the state of Mississippi, Pearl River Resort enjoys a unique level of exclusivity, which inspires an even more dynamic offering of non-gaming amenities. This includes a fine-dining steakhouse and a recent renovation to the buffet. These food and beverage options are made for private guests, but also for corporate clients.

"Our long-term goal is to continue growth on the convention and conference side of the business," says Gagnon. "We want to see our midweek hotel occupancy rates increase, while we are spending much more energy in marketing and letting people know there is something for everyone here."
Rockin' Revenue
Perhaps the model of non-gaming revenue for tribes is the Seminole Tribe of Florida, owner of Hard Rock International. Hard Rock has a total of 174 venues in 55 countries, including 136 cafés, 19 hotels and seven casinos. The operator owns the world's largest collection of music memorabilia, which is on display at its locations around the globe.

So it comes with no surprise that they opened Hard Rock Rocksino Northfield Park in late 2013 in Cleveland, Ohio. This was the first of Hard Rock's "Rocksino" brand, a special venue that combines the music experience with the gaming environment.

Hard Rock Rocksino Northfield Park offers harness racing, always a valuable commodity and interest among casino players. The property has created a buzz among the people in northeast Ohio, but giving back to the community is still a top priority.

"We have a steadfast, undying commitment to help m
ake a difference in the community, and want our business and the community to be prosperous and thrive," says Mark Birtha, president of Hard Rock Rocksino Northfield Park. "Prosperous communities are great places to do business and to attract and retain talent. We will continue to invest our dollars, time and resources to help our community partners make that happen."

The Rocksino boasts a Hard Rock Live music venue, the fifth of its kind, which is home to unforgettable encores by acclaimed musicians and sellout crowds of over 2,500 music lovers, and also serves as a venue for variety of functions and banquets. The Rocksino also offers The Club, a 300-seat live venue featuring comedians and illusionists. It is also readily available for private parties and events. And of course, there is the world-famous Hard Rock merchandise.

For those looking for more of a food and beverage experience, Hard Rock has spent time, money and energy in marketing its Legendary Burger. They have been serving the iconic menu item since opening the first Hard Rock Café in London on June 14, 1971, and have given it the self-proclaimed title of the best burger in the world.

Making it Real
For the San Manuel Band of Mission Indians, the ability to purchase and develop commercial real estate has been the foundation for non-gaming revenue. San Manuel has invested in real estate across Southern California. With an eye for redevelopment, San Manuel holds parcels at San Bernadino International Airport, the former Norton Air Force Base, and in communities near the tribe's San Bernardino reservation.

Phase two for development of the San Manuel Village began in 2011, and included the opening of Mi Cocina, a Mexican restaurant, St. Bernadine's hospital urgent region care and the San Manuel Event Center, a state-of-the-art facility for hosting social events and business meetings.

"San Manuel has learned to find partners that are committed to long-term, sustainable growth models to our stable tenants at San Manuel Village," says Valbuena. "Both San Bernardino's urgent care and Mi Cocina opened as part of San Manuel Village phase-two projects, and have served the community for decades. As a sovereign tribal nation, San Manuel engages in economic development with an eye toward securing long-term, reliable and diverse government revenue streams. The tribe is finding success with business partners who share a long-term approach."
Looking Up at Northern Quest
The Kalispel Tribe, operator of the Northern Quest Resort and Casino, also shares a dedication to provide the best experience possible for both gaming and non-gaming guests. Offering the non-gaming amenities allowed the tribe to further establish service standards, product quality and an elevated guest experience.

On the property are a AAA Four Diamond and Forbes Four Star-rated hotel resort, 14 restaurants and lounges—including a AAA Four Diamond restaurant—a Forbes Four Star-rated spa, 1,200-seat indoor and 4,200-seat outdoor music venues, and over 22,000 square feet of flexible meeting and event space.

"In addition to developing these amenities as part of our casino resort property, the Kalispel Tribe has branched out with a commercial laundry service, a Chevron-franchised gas and convenience store and a Fatburger franchise with two locations, one of which is a freestanding location away from the resort," says Thomas.

These amenities have allowed Northern Quest to become a serious player in the heavily populated Northern California casino market.
The Santa Fe System
The non-gaming revenue system at Buffalo Thunder in Santa Fe thrives more on its outdoor experience to take advantage of the warm climate in New Mexico.

This includes having a music-festival concert on the driving range of its golf course.

Combining physical resources such as golf courses, pools, rooftops and even hotel lobbies to generate non-gaming revenue is a major trend within the entire gaming industry.

"We are constantly looking at bringing different types of events to the property," says Stachowski. "It brings in a different type of clientele under a new circumstance for both the casino and our guests."

Buffalo Thunder also places a heavy emphasis on food and beverage revenue, including hosting an international beer-tasting festival last spring. In May, the casino hosted a poolside barbecue event that featured a 72-ounce steak-eating contest.

"Our goal is to have people who have never been here to come, then tell their friends how much fun they had," says Stachowski. "And at Buffalo Thunder, that could be accomplished by experiencing a variety of amenities on our property."
Focusing on the Future
Future financial success for tribal casinos is definitely not limited to the roll the dice, the pull the slot handle or the dealing of the cards. Tribal casinos have made the transition to tribal entertainment venues and resorts, with best-in-class amenities, facilities and service domestically and even internationally.

This allows the leaders of the tribal casinos to see their role in much larger view than their predecessors a decade ago. Now they can truly position themselves as regional destinations with hotel, entertainment, dining and nightlife options every day of the year.

"What I expect in the next few years is a busier midweek with more hotel rooms sold, and that is why we renovated our rooms," says Gagnon. "These amenities benefit us, and now all we have to do is continue to build more awareness."