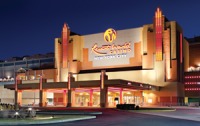 The road to establishing a casino at the legendary Aqueduct racetrack was long and winding. But when Malaysian gaming giant Genting finally won the bidding in 2009, the wait was well worth it.

The site is located near New York's Kennedy Airport and at the gateway to the Long Island suburbs, and is connected to the rest of the city via the New York City mass transit system. Due to that favorable location, the property has quickly become the top slot machine performer in the nation.

As the lead architect, JCJ's first task was to make it happen quickly.

"This was one of the most aggressive schedules we've ever undertaken," says Eileen O'Brien, JCJ's director of business development. "We divided the project into multiple phases and into multiple project teams, so there were many teams working simultaneously on various aspects of the entire project—headed by a group of team leaders providing oversight and cohesion throughout."

Adding even more pressure was the fact that the project was Genting's first project in the U.S.

"This was to be the flagship, so consequently needed to set the standard," says O'Brien.

It was Genting's plan to make the casino familiar to its target market: New Yorkers. So the various sections of the casino were given names that would make them feel at home: Times Square and Fifth Avenue casinos, the Central Park events center, and the Midtown Express restaurant.

But there were other reasons for the separation of the casinos.

"The owner's desire for segmentation drove the general size and design preferences," says O'Brien. "The casino design itself was created to house two distinct gaming experiences: a large casino to appeal to the mainstream crowd, and a separate casino that would appeal to the sophisticated player."

The design style would also be comforting to New Yorkers.

"The vision was to be respectful of, and to incorporate, local iconography to underscore the authenticity of this being truly a New York enterprise," she explains. "Design nods to landmark buildings such as Rockefeller Center, the Empire State Building and the Chrysler Building can be seen throughout. More so in character statement than in any particular architectural style, there are subtle hints of New York's grand Art Deco period, but with a modern interpretation."

With 18 food and beverage outlets, 6,400 parking spaces, and 5,500 slot machines (a combination of VLTs and electronic table games), Resorts World New York provides a the first casino experience for New Yorkers in the city. Genting has discussed building a convention center adjacent to the casino, which would also include a hotel and the legalization of table games. Although nothing has been finalized, it would make Resorts World New York one of the premier casino destinations in the world.
OWNER: Genting New York
ARCHITECT & INTERIOR DESIGN: JCJ Architects
CONSTRUCTION: Tudor Perini
SIZE: 1,086,000 square feet (180,000-square-foot casino)
COST: $830 million total ($540 million hard construction cost)