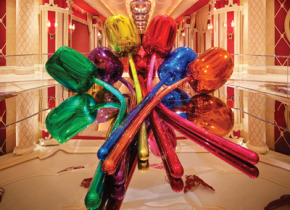 The greatest artist of the 20th century, Pablo Picasso, spoke for most artists when he proclaimed, "Everything you can imagine is real."

Casino resorts embody that sentiment. They are supreme examples of art tailored for the common man with as much "wow factor" added as you can imagine.

The greatest art cliché is that it exists "for its own sake." Some casino resorts employ art, host artists in residence, display art from private collections or even have galleries of fine arts. Art for its own sake is the least of their reasons.

For some casinos, "artifacts" equal art, as in the "Artifacts of the Titanic" the Luxor is hosting in tandem with "Bodies." The exhibit recreates the spectacular opulence of the doomed "unsinkable" liner, and includes 250 artifacts recovered from the wreck.

Jim Gentleman, senior vice president, account management and strategy for SKG Marketing agency in Las Vegas, has worked with several casino clients who utilized public art, including the Aria, which, he says, has "a significant art collection, including commissioned pieces; and the Borgata, which features the blown glass sculptures of Dale Chihuly throughout the property.

"Some have utilized art to further define their brand and enhance the overall guest experience," says Gentleman.

A good example is the Cosmopolitan Las Vegas, which he calls "a modern contemporary new take on the casino. They have done the same thing in art. They are the first casino to have an artist in residence."

Two Cosmo slogans are applicable: "Art and Las Vegas—We Think Opposites Attract" and "Art for Guest's Sake." Guests can watch artists in residence through the intimate glass-walled P3 Studio. Recently this included Las Vegas-based David Sanchez Burr, who created Metasonic, described as a combination of "architecture, structure, sound and time." He invited guests to "be a participant in both the creation of sound and the reorganizing of element and structures related to the citadel in this ongoing and growing experimental sound and interactive sculptural installation."

Guests at P3 can dive right in and interact with the artists—who range from painters to photographers, designers to performance artists—"maybe even help create a masterpiece," according to the casino.

The best time to visit the P3 Studio is evenings from Wednesdays through Sundays. Upcoming artists at P3 include Mark Brandvik in November and JK Russ in December.

The Cosmo, notes Gentleman, "doesn't just put paintings on the walls; they take digital billboard signage and display work from contemporary artists—which is pretty unique in the casino world, but is consistent with their brand."

Fine Galleries
The Bellagio was the first Las Vegas casino to open a fine arts gallery, in 1998. It pioneered fine art on the Strip.

The Venetian conducted a noble experiment when, for seven years, it partnered with the Guggenheim to present the Guggenheim Hermitage Museum. This included 10 major exhibitions. Some, such as Libby Lumpkin, executive director of the Las Vegas Art Museum, were not impressed. In 2008 she told the Las Vegas Sun, "Among cultural tourists there is an expectation of seeing exhibitions that organize new knowledge with the works of art. At Guggenheim, it was more like showcasing great paintings."

In May 2008 the contract between gallery and casino ended and the Guggenheim returned to New York City.

The Venetian no longer has an art gallery, but does have an interactive exhibit celebrating one of the greatest artists and geniuses of all time in "Da Vinci: the Exhibition." Purists might argue that this gives the Disneyland treatment to fine art in the same way the Luxor treats ancient Egyptian history. But the purists might be wrong. The same Italian artisans who interpreted the 15th century dialect translated from the mirror writing Da Vinci used in his famous notebooks helped create, often for the first time, 60 life-size machine inventions, artwork and anatomical studies. Guests learn how the models work by pulling and cranking them. This is art education, especially if you are aiming at young minds.

For the most part, that seems to be what the masses are willing to pay for, as opposed to fine arts galleries. With some notable exceptions.
Destination Art
Gentleman observes, "The combination of art and casino has had mixed results. The Guggenheim's Hermitage Museum at the Venetian closed because it didn't generate the hoped-for traffic. The Wynn gallery closed in 2009 and was replaced by a Rolex retail store. People don't come to Las Vegas for the art. They come to be entertained. But a small segment, such as those who go to the Borgata, is looking for more than just entertainment. People who can pay $200 per night might have an appreciation for the arts. They are not just looking for entertainment, but enrichment."

After Wynn's fine art gallery experiment, he changed his approach, and now scatters artworks from his private collection throughout his properties. Wynn is known for attracting well-heeled casino visitors. His on-property artworks feed that strategy.

At the Las Vegas Wynn Convention Center corridor you will find Attempting to Calm a Titan and Mercury Ascending Azo by a young, emerging artist, David Guidera. Guests at valet entrances are greeted by bronze horse and shoe sculptures by Stephan Weiss. At the entrance to the Terrace Point Café, guests encounter a wooden chandelier by Gustav Eiffel (yes, that Eiffel). Next to the café is Full Fathom Five, by British painter Tim Bavington, who primarily paints in graphic stripes, each representing one musical note in a selected musical composition. Some are Wynn's personal favorites, such as work of sculptor Viola Frey, whose detailed ceramic sculpture is a centerpiece in Terrace Pointe Café foyer.

Some casinos, rather than relying on dry artworks, aim toward museum-like exhibits, where vendors or operators rent space and present provocative or high-interest exhibits such as the Titanic artifacts.
Space Draw
Ira David Sternberg is president of IDS Creative Communications, Inc., a public relations and consulting firm, and host of the radio show Talk About Las Vegas. He was vice president of communications and community relations for the Las Vegas Hilton for five years (2004-2009). Sternberg was director of public relations at the Tropicana from 1986 to 1997. He is associated with the operator for "The JFK Exhibition," which opens November 22 at the Las Vegas Tropicana.

"The main consideration for any exhibit," says Sternberg, "is whether it is compatible with the property and makes additional revenue."

He adds, "From a business point of view a casino looks for an outside operator." It will likely sell tickets for the exhibit, put it on its website, market it and even provide room packages, but will prefer to let the operator front the costs. "Bottom line is that it has to pay for itself. And it needs to have the potential to attract more than just t
he usual casino audience," says Sternberg.

He notes that in the last decade, as a piece of the casino resort pie, gaming revenue is not as large as it once was, having been replaced in part by entertainment, fine dining and other attractions.

Space is often a factor in choosing an attraction. "At the Hilton we had the 'Star Trek Experience,' because we had the space and wondered what to use it for," says Sternberg. "Sometimes you look for something that will work for a space. You don't want a large space staying empty.

"Places like Wynn, the Borgata, Bellagio and Aria market to affluent, educated, sophisticated travelers who do appreciate art, who are looking for more than just entertainment," says Gentleman. "That is a very small percentage of the overall visitors. It's not like the masses will pay. These things tend to be investments. I don't think the hotels get into purchasing high-priced art to get a return on investment. It's to enhance the guest experience and differentiate them from other casinos."
Bellagio Class
Gentleman calls the Bellagio a "classic brand," and that extends to the artworks in its Gallery of Fine Art. It is home to museum-caliber exhibitions from prestigious collections including "Warhol Out West" from the Andy Warhol Museum in Pittsburgh; "Figuratively Speaking: A Survey of the Human Form" from Museum of Fine Arts, Boston, Museum of Contemporary Art, San Diego and the MGM Resorts collection; and most recently, "Painting Women: Works from the Museum of Fine Arts, Boston," among many others.

Beginning November 14, they will showcase "Fabergé Revealed" in partnership with the Virginia Museum of Fine Arts. This will provide the rare opportunity to see over 200 works, including the famous gem-encrusted "eggs," by the jeweler for the Romanov czars. It will also include enameled picture frames, gold cigarette cases, decorative boxes and jewel-encrusted brooches.

Tarissa Tiberti, executive director of the Bellagio Gallery of Fine Art, explains, "Bellagio's commitment to integrating art into the guest experience is also evident throughout the property, including a Robert Rauschenberg hanging behind the front desk and a Roy Lichtenstein tapestry in the dining room at Prime. Displayed in his namesake restaurant, Picasso, are original paintings and ceramics by the Spanish artist himself."

She adds, "Since inception, Bellagio has been dedicated to providing an extensive fine art program for its guests, and was built with a foundation of culture in mind. With that comes great opportunity to expose both tourists and Las Vegas residents to incredible artworks and artists."

They attract patrons who might not normally visit a casino. "With Bellagio Gallery of Fine Art (BGFA) being the premier cultural destination on the Las Vegas Strip, we find that a large majority of our patrons are tourists seeking a bit of culture during their trip to Las Vegas," she says. "Residents tend to spend their free time away from the Strip, so BGFA provides a great reason to visit Bellagio to enjoy artworks by incredible artists, right in their backyard."

Are such shows profitable? According to Tiberti, "All of the shows we have showcased at BGFA have been popular over the years, resonating with a wide range of visitors, both domestic and international."

When the Bellagio stages a show, first priority "is to offer a range of art installations that not only interest true art aficionados, but also intrigue those simply looking for a deeper, educational Las Vegas experience," she says.

Works are typically on display at BGFA for from six to eight months. They aim at a diverse audience, given Las Vegas' ability to attract all kinds of people. "You always want to ensure you're reaching a wide variety of people," says Tiberti. "With that being said, painting is the art form that resonates the most with a general audience, specifically exhibits that showcase masterworks by key artists such as Picasso, Monet and Warhol."
Modern Art
Gentleman expands the definition of "arts" element to the Hard Rock Hotel, which, strictly speaking, has no art exhibits, except in the sense that the entire casino is a collection of music memorabilia, photos and signed musical instruments. "I consider that art, as well," he says. "In spite of the fact that it is specific to music, my point is that in many cases they have utilized art to define their brand and differentiate their experience."

Sternberg agrees that reinforcing the casino's brand is important. "You want it to be compatible, but if it can reinforce it it's even better," he says. "In the milieu of Las Vegas, an art exhibit takes on a different look than it would in New York City."

Gentleman expects to see more casino hotels differentiating themselves. "As they do, we will see more of this art programming, not to generate revenue but to improve and enhance the guest experience. Today the Bellagio, Aria, Cosmopolitan, Wynn and Borgata are all to an extent in the art business."

One reason is to attract millennials. "Younger generations of consumers have higher expectations for the companies they do business with. Beyond just providing a service beyond a meal or a place to game in. Millennials expect these companies to do more—not just responsible practices but things like art that enriches and educates. Providing art goes above and beyond and appeals to a younger generation who look not just at what they do but what they stand for."