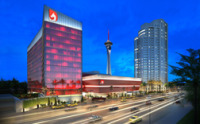 Although the Asian gaming customer is one of the most lucrative in the casino industry, there aren't enough amenities available for that segment, or so say the developers of the Lucky Dragon in Las Vegas.

Dave Jacoby, Lucky Dragon's chief operating officer, says his smallish property (200 rooms, 27,000-square-foot casino) will cater to the domestic Asian markets in the U.S.

"We're playing on the existing market that isn't served well," Jacoby says.

So while the Lucky Dragon won't have the amenities of the mega-resorts, it will be well suited to serve Asians, who will feel more comfortable in an environment designed just for them. As the first Las Vegas casino resort that recreates an authentic Asian cultural and gaming experience, the Lucky Dragon builds the guest experience on four pillars:

• Restaurants. The target market should respond strongly, since the Lucky Dragon hired renowned San Francisco restaurant owner (Koi Palace and Dragon Beaux) Willy Ng. The property will feature a "night market" called Dragon's Alley offering the street food of the Far East; the Pearl Ocean, a dim sum restaurant that will set a new standard in Las Vegas; the Phoenix, a luxury eatery that will feature a menu of cutting-edge culinary trends found throughout modern China, like kurobuta pork, deer tendon, abalone and countless other delicacies; and the Cha Garden, an indoor-outdoor tea garden that will feature a variety of settings adjacent to the hotel's pool area.

• Hotel rooms. More than 200 rooms and a spa will combine ancient Chinese culture with modern-day amenities.

• Gaming. The casino game mix will be heavily focused on popular games including baccarat, pai gow, fan tan and sic bo, and will boast several Feng Shui-designed private gaming parlors.
• Hospitality. Lucky Dragon employees will be trained in multi-cultural service so they will be familiar with the language and customs of guests, ensuring an authentic and accommodating experience.

Jacoby says the unique design and the direct appeal to the Asian market will give the Lucky Dragon a leg up on Las Vegas casinos that have a loyal Asian clientele but lack the amenities and service those clients desire.

"We're taking it a step further than what you may have seen elsewhere," he says. "This is the first property built from the ground up to appeal to Asian-American players' needs, particularly when it comes to entertainment, value and service. A lot of properties may have some visitation, but we are built for that customer. We appeal directly to them."
Owner: Las Vegas Economic Impact Regional Center
Architect: Ed Vance & Associates
Interior Designer: Lee Cagley, Cagley Tanner
General Contractor: Penta Building Group
Investment: $373 million