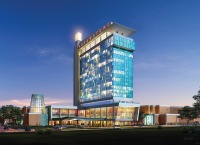 Cuningham Group Architecture, Inc. exists "to create beautiful places for a balanced world," say the company's principals. Simple and eloquent, the statement embodies their passion for design and its impact on their clients, communities and the world. Their "Beautiful Places, Balanced World" approach to the business and practice of architecture is one they've nurtured for more than four decades.
Founded in 1968, the multidisciplinary design firm provides architecture, interior design and urban design services for a diverse mix of client and project types, with significant focus over the last 20-plus years on gaming and entertainment. Bolstered by a staff of 260 and offices in Minneapolis, Los Angeles, Las Vegas, Biloxi, Denver, San Diego, Phoenix, Seoul and Beijing, Cuningham Group has expanded services and markets to meet a growing demand from some of entertainment's largest and most respected clients. The company's portfolio includes casinos, hotels, theaters, convention centers, restaurants, retail venues, master plans and support facilities for gaming and resort destinations throughout the U.S. and around the world.
Cuningham Group's top priority is design excellence through a client-centered, collaborative approach called "Every Building Tells a Story." This philosophy toward gaming design emphasizes one-of-a-kind solutions—creating experiences and a sense of place by telling stories through a modern interpretation of metaphors that reflect the vision of the client and the character of each property and site. The process benefits clients by providing unique environments that differentiate them from competition.
The company also has developed criteria to evaluate all projects based on a "Triple Bottom Line" sustainability business model of "People, Profit and Planet." Cuningham Group believes for any project to be sustainable, it also must be profitable to their client.
Recent projects include the $205 million Margaritaville Resort Casino in Bossier City, Louisiana that opened this summer and received the 2013 Casino Design Award for "Best Architectural Design Over $100 Million." Currently under construction is the new 21-story, 381-room hotel tower for Potawatomi Bingo Casino in Milwaukee, Wisconsin, set to open in summer 2014. In addition, the firm recently completed the award-winning $650 million expansion and renovation of Harrah's Cherokee Casino Resort.
Project successes such as these have led Cuningham Group consistently to be ranked among top firms. Their design work has been honored with more than 140 industry and market awards. Ultimately, Cuningham Group believes good design enhances one's interaction with a space, and they have enhanced the experiences of countless people in the places they work and play.
For more information, visit www.cuningham.com.