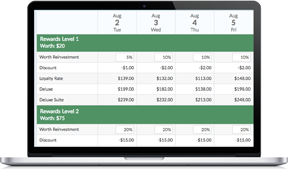 Income from rooms and non-gaming sources continues to drive profits. For new insights into consumer demand and more targeted pricing strategies, look to Duetto's revenue management solutions.
Casino hosts shouldn't rely on "gut feelings" to offer guests a comp or casino rate, or base the decision solely on information from the gaming floor. With Duetto's Personalized Loyalty Pricing, casinos can incorporate new data sources and predictive analytics into their reinvestment decisions and direct-marketing programs.
That feature is part of GameChanger, a revenue strategy application that allows casinos to dynamically flex rates across all segments and room types according to demand. It incorporates total customer-worth data—ADT from gaming, plus spending for F&B, spas, golf and entertainment.
The "Find My Rate" app, available on most devices, allows front-desk agents, hosts or pit bosses to find player information with the push of a button and get the right rate—for the guest and for the bottom line—immediately. Comps are reserved for the highest-value guests. And other spenders are rewarded for their contribution to profitability.
Individualized loyalty rates reflect a guest's true value to a property, avoid cookie-cutter loyalty programs, and entice the right guests to return.
For more information, visit DuettoResearch.com/casino.