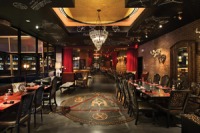 Celebrity Chef Rick Moonen made a huge splash in Las Vegas when he opened rm seafood in 2005, the rare seafood restaurant in Las Vegas that actually delivered fresh and sustainable fish and crustaceans. He has now created his Rx Boiler Room on the top floor of his existing rm seafood restaurant at Mandalay Bay in Las Vegas.

This new restaurant is the chef's "playhouse," allowing guests to indulge in the chef's alter ego. The interior celebrates the sub-genre associated with science fiction and inspired by industrialized Western civilization of the 19th century affectionately known as steampunk. From industrial hardware to swooping velveteen fabrics, the steampunk-inspired elements surrounding the dining experience evoke Moonen's creative process of playful pairing, inventive illustration and culinary mixing.

The bar dazzles with its high energy amid a haphazard collection of tools and artifacts. It is a stage with mixologists performing their "magic." Imagine Jules Verne using scrap materials to create wondrous machines of an imaginary future, and you'll have an idea of what Moonen was dreaming when he conceived this concept.

The expert mixologists "perform" with a variety of appliances and unexpected materials, such as blocks of ice, to keep everyone guessing as to the next cocktail produced. The innovative operations take surgical skills to produce libations like none other.

Of course, the food is the star of the show, as Moonen puts a new take on "comfort food" served on large and small plates. Perfect for sharing, some of the menu items include brioche toast with tomato jam with bacon wrapped around a sunny-side-up quail egg, braised oxtail croquettes with a lemon aioli, a Greek-style lamb osso bucco, and a very playful calamari and meatballs in squid ink tomato sauce, all served in both the playfully lush dining rooms and at the interactively intimate bar.
Interior Designer: Cleo Design
Architect: Moser Architecture Studio
Design Director: Roni Fields Design
Contractor: Tré Builders