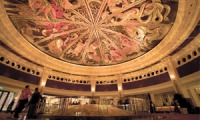 The leader of Forte Specialty Contractors, Scott Acton, is a third-generation craftsman. His grandfather and father before him created and built innovative designs over the last five decades for many familiar venues. Their early handiwork still can be seen at Disneyland, Knott's Berry Farm, Six Flags and Sea World, and as far away as Wynn Macau, among several other places you probably have visited.

Acton likewise has proven the capacity to imagine, construct and install innovative designs for restaurants, clubs, spas, retail facilities, entertainment venues and more.

Forte was conceived by Acton as a solution to a changing market that demands more accountability, creative problem-solving, speed and efficiency. Forte can act as both general and theming contractor for any project a client may have in mind. This new business model provides owners a firm grip on how and where their dollars are spent. The uniquely skilled Forte team integrates the end vision into every element of the project—from the basic building blocks of construction to finite details of the themed experience.

Forte starts with the finish in mind, and the result means the customer is presented with economical solutions and superior workmanship. Forte's ability to conceive spectacular environments starts with Acton. His idea of combining layers of the traditional construction processes with a new organization has quickly turned heads in a very competitive industry.

Forte's experience and talent eliminate layers of administration. By collaborating directly with the client's creative team, Forte can bring its vision to life while maximizing resources and focusing the investment where it matters most—creating a memorable experience for every guest. The company understands the theme is what brings guests back.

A new kind of owner-contractor relationship is being developed, and Forte is leading the way. Forte believes a client's complete satisfaction is always achievable, and makes every effort to not only build an exceptional product, but to create long-lasting contractor-client relationships.

See what three lifetimes of creativity and skill can do for you at www.fortedesignbuild.com.