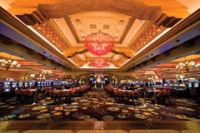 Thunder Valley Casino Hotel Expansion
Lincoln, California

OWNER: United Auburn Indian Community
ARCHITECT: JMA Architects
INTERIOR DESIGNER: Steelman Partners
CONTRACTOR: PENTA Building Group
CIVIL ENGINEER: Martin & Martin
INVESTMENT: $1 billion
Thunder Valley Casino was already one of the state's biggest when the United Auburn Indian Community decided to build the first Northern California casino to offer true Las Vegas-style gaming, dining and entertainment. They chose the Las Vegas-based PENTA Building Group, listed as one of the top 100 general contractors in the nation.

PENTA, founded in 2000, has expertise in resort-style projects such as hotels, casinos, timeshare resorts and tribal gaming. The Las Vegas Chapter of the Associated General Contractors of America named it 2010 Contractor of the Year.

Its challenge was to take an expansion project where construction began before the tribe decided to downsize it to fit new economic realities.

So, the project, which broke ground in March 2009, was shut down for five months before being completed and reopened in July 2010.

While it was shut down, it was completely redesigned, from the finishes down to the major utility systems. Parts of the structure had been finished before the shutdown, and were made to fit in with the previous design.

Since the building was fairly well along when it was shut down, the design and construction team lost the time to design and coordinate the systems prior to construction.

The parking structure's height had to be cut by two floors. PENTA decided the safest plan was to pour all the decks and cut the columns down after the last deck was in place in lieu of erecting scaffolding. During placement, a detailed plan was devised that included test-cutting a large section of the columns to ensure it could be done safety and consistently, extensively reviewing crane selection, placement, time frames and cost. Nevertheless, the entire project was completed on time and under budget.

The finished project included a 261,000-square-foot casino, 17-story hotel tower and seven-story parking structure. The nature-inspired approach helps bring the outside in, by blending a strong contemporary theme with nature. Organic shapes and materials, such as oak leaves (symbolizing money, luck and strength), acorns (for masculinity, luck and prosperity) and basket-like patterns, were strategically positioned throughout the 172,250 square feet of interiors. These images incorporate the terrain and native symbolism of the indigenous tribes of the Sacramento Delta.