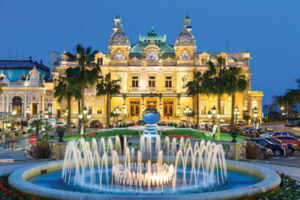 When the Hotel de Paris Monte-Carlo opened in 1864, casino magnate and SBM founder Francois Blanc said it "surpassed everything that has been created until now, even the Hotel du Louvre and the Grand Hotel in Paris."
When the 150-year-old hotel needed an upgrade, architects Richard Martinet and Gabriel Viora approached the task with the sort of reverence befitting a historic restoration. But this wasn't just a facelift for the fabulous five-star hotel.
The painstaking task, which began in October 2014 and will not be complete until September 2018, is meant to "carry on and exalt the spirit of the hotel, while anchoring the establishment firmly in the 21st century," according to the hotel website.
The far-reaching project will add a center garden courtyard, a new spa, fitness and pool area, a modern wing of suites and an exclusive rooftop villa with its own garden and pool.
The hotel's elaborately sculpted Belle Epoque facade, of course, will remain as-is, along with the lavishly appointed entrance hall, the world's largest wine cellar, and popular destinations like Le Bar Américain, La Salle Empire and Le Louis XV. In May, the famous Michelin-starred Le Grill restaurant reopened with an expanded terrace and a new Winston Churchill private dining salon, all with stunning views of the Mediterranean.
The project is also BREEAM-rated for sustainability and energy efficiency.
The Hotel de Paris Monte-Carlo has always attracted the rich and celebrated—from Verdi and Dumas in a bygone era to Sean Connery and Pierce Brosnan today. In addition to hosting the two James Bonds, the Hotel de Paris also provided the backdrop for two 007 films: Never Say Never Again and GoldenEye.
Consistently ranked as one of the world's most elegant hotels by Conde Nast and Travel + Leisure, the grande dame of this coastal principality is almost ready for her close-up.
Operator: Society des Bains de Mer
Architects: Richard Martinet, Affine Design and Gabriel Viora, Architect Viora