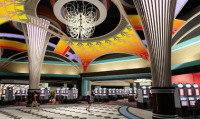 It's been a landmark of the Santa Cruz Valley since 1994. In 2011 and 2012, Harrah's Ak-Chin Casino added a $20 million hotel and entertainment center. Three years later, it was ready to grow again.

In 2015, the Ak-Chin Indian Community announced it would invest $100 million in a massive expansion of the property, which has been likened to "a great saguaro cactus rising above the desert."

The plan calls for a ballroom-event space, additional restaurants and a 700-space parking garage. The expansion will also add a new hotel with 230 luxury rooms and suites. Featuring panoramic views of the valley, the rooms will have a distinctly tribal flavor, thanks to 75 Ak-Chin elders who consulted on the decor.

"They wanted to make sure the facility, from a cultural perspective, reflected something very unique," says Chandra Reilly, project director for general contractor Sundt/Yates, a joint venture. "While they're connected to other O'odham communities, they have their own unique culture."

The design scheme will integrate images of water, cacti and the devil's claw plant. The color palette will evoke the warm, vivid hues of the great Southwestern desert.

Of course, every desert needs an oasis. The existing pool area, known for its swim-up bar, will be replaced with a zero-entry beach pool complete with water jets and poolside cabanas. First-floor guest rooms will become pool bungalows, with their own private terraces. Multiple integrated hot tubs will allow guests to select water temperatures and settings at the push of a button.

The existing 40,000-square-foot gaming area (including Caesars' only bingo hall, companywide) will also grow.

"This expansion will provide our guests and visitors with the high-quality hospitality and entertainment they have come to expect here at Harrah's Ak-Chin Casino," says Ak-Chin Chairman Robert Miguel.

Construction began in June. The project is expected to be complete in 2018.
Owner: Ak-Chin Indian Community
Operator: Caesars Entertainment
Architect: Thalden Boyd Emery
General Contractor: Sundt/Yates JV
Investment: $110 million