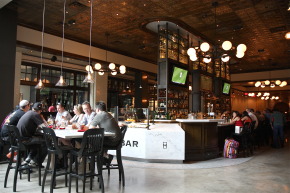 Ambiance has become an indispensable part of dining out. Design plays a critical role in each of the three pillars of the customer experience—food, service and atmosphere. Done right, design complements other key elements, such as great cuisine, and helps establish the immersion that customers crave in a dining experience.
Todd English P.U.B.
At Todd English P.U.B., a modern interpretation of traditional pub fare located at the midpoint between Aria and high-end Crystals mall in Las Vegas, the role of design in guest experience and operations stands out.

Whereas the reputation of a four-time James Beard Award-winning celebrity chef undoubtedly is a driver of traffic to the restaurant, the design in many cases pulls customers in and brings them back.

The establishment's open floor plan, high pressed-tin ceilings, white subway tile and beautiful marble center encourage a sense of community and help the venue establish a fun energy that it successfully replicates, night after night. Customers come specifically to have a good time; it's what they're thinking about as they walk through the front door. Their perception is that it is not as expensive as other dining options in the area. T.E.P.'s elegant-but-not-intimidating environment works great for one of the establishment's most coveted customer targets: affluent male tourists, who want to watch a sporting event.

The design of Todd English P.U.B. adds to the high-energy, social environment sought out by management and customers alike. The kitchen is open, which brings staff into the lively environment and further opens an already open space. The bar and dining areas feel like separated spaces, as they perhaps should, yet the sought-after experience is diluted in neither. The proximity of the kitchen to the dining area also speeds up food service, which results in the restaurant being able to turn more tables each night. Todd English P.U.B. is able to increase revenue-per-chair in part due to its design.

Patrons asked to describe Todd English P.U.B. in one word, interestingly, often use adjectives related to the restaurant's design—"cool," "elegant," "happy," "lively" and "fun." In fact, the role of design in choice goes well beyond their periphery. It is also at their consciousness.

When Todd English P.U.B. customers were asked to rank the importance of architecture and design in choosing a restaurant on scale of 1 (not important) to 10 (very important), their average ranking was an 8.3. Though not enough to draw a quantifiable conclusion, it is a fascinating insight.

Hakkasan
Innovative and brand-consistent design plays a central role in creating an ambiance at Hakkasan, which has been described as "sexy," "sleek" and "upbeat." While the modern Chinese restaurant enjoys broad success, it does particularly well with high-income locals, international travelers, domestic tourists and club-goers.

White marble and dark oak adorn a central dining area, which masterfully creates spaces that are simultaneously private and open. The kitchen, run by Michelin-starred Chef Ho Chee Boon and his team of dim sum chefs, extends the Chinoisere-chic to the back of house in a way that is different from the dining room but still consistent with the broader space. Positioning of the kitchen, the main dining area and the private VIP dining room on the second floor represents design choices driven equally by form and function.

The subtle design details within Hakkasan reward those who pay close attention. The dark wood and white, cloudy marble used throughout the restaurant are very similar to that used in traditional Chinese-style furniture for centuries. In China, it would be common to see these materials in traditional homes throughout the country.

Hakkasan is able to apply these old-fashioned elements and transform them into something elegant, modern and chic. With a fresher design, the dark wood and cloudy marble transform into a distinctly modern Chinese composition. This attention to detail no doubt adds to the restaurant's appeal in the minds of consumers, while also extending the experience beyond the physical confines of the restaurant into the very story of the place—all of which serves as a tremendous influencer on choice, buzz and loyalty.

Understanding the hospitality side of the restaurant equation, Hakkasan follows up its impressive design with impeccable service. With stylish lighting, jasmine scent hanging delicately in the air, ambient music, great food and a brand synonymous worldwide with seductive excellence, guests can't help but leave the restaurant having accomplished their mission to have a special dining experience.

With more than 20 comments per night from guests, Hakkasan knows that its design is a central element to the story it wants to tell its customers. Further, with about 30
people per day venturing off the MGM Grand casino floor to look inside, Hakkasan also knows that design influences a
consumer's desire to experience that story firsthand.

Hakkasan's design isn't just praised in staff comments, online reviews and word-of-mouth among satisfied guests. It also wins awards, such as the G2E 2013 Casino Design Award for Best Interior Design for a Casino, Resort, Restaurant or Nightclub.
Todd English's OlivES
Todd English's Olives benefits not only from the name of its celebrity chef, but also from its prime location and smart design. Situated within the retail corridor of Bellagio, directly adjacent to the valet entrance off the Las Vegas Strip, the restaurant, and its patio in particular, flaunt the establishment's unfair advantage of overlooking the Fountains at Bellagio—an obvious driver of traffic.

Comfort is the goal at Olives, where staffers field compliments and "where can I get that?" comments about the restaurant's design elements on a daily basis. Warm colors, dark hues and subtle, upbeat music add to the character and charm of an alluring dining room that guests describe as "sexy" and "inviting."

The restaurant is segregated into multiple different experiences within the same space: bar, dining room and patio all have different energies to them. These separate-yet-integrated elements are as much a testament to their function as they are their form. Their segregation also drives key operational efficiencies, as staff can streamline service toward individual spaces and guest satisfaction.

Tables at Olives are square, not round, adding to the focus on a comfortable experience. Also, guests are seated in rather close proximity, which encourages a social element that resonates throughout the restaurant. This juxtaposition also adds to a more "intimate" and "romantic" feel, which are among the most popular descriptors articulated by guests.

Patrons asked to describe Olives in one word commonly use adjectives related to the restaurant's design. Customers use words like "comfortable," "rich," "elegant," "relaxing" and "dreamy" as labels they would use to describe the venue to a friend.

As was th
e case with Todd English P.U.B., guests at Olives used similar words to describe their motivators for choosing a restaurant venue as well.

When asked to rank the importance of architecture and design in choosing a restaurant on scale of 1 (not important) to 10 (very important), these patrons ranked it very high, at a 9.1. This correlation between consumer spend and the importance of design as a key influencer in choosing one venue over another was consistently greater, the more a consumer anticipated spending.

For upscale venues targeting high-income guests, design is not only a key element—it is an essential one in defining not only the consumer experience, but also the consumer's evaluation prior to making any food-based decision.