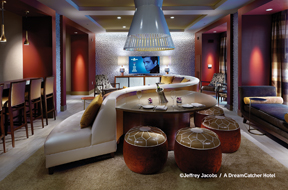 HBG Design (formerly Hnedak Bobo Group) creates gaming and hospitality experiences that delight and inspire.
Recently, HBG worked closely with Elvis Presley Enterprises and Priscilla Presley to design the new four-diamond Guest House at Graceland Resort in Memphis, Tennessee.
While the outside is traditional, in keeping with the mansion's original style, inside the experience is brimming with subtle and not-so-subtle homages to The King, with a contemporary design inspired by Elvis' personal style.
A leader in entertainment architecture and interior design, HBG Design specializes in creating personal, memorable and transformative design environments for national and international clients. HBG Design's talented team delivers innovative design solutions from offices in Memphis and San Diego.
A five-time G2E Casino Design Award-winner, HBG Design is one of a select few design firms working in gaming/entertainment design today to own, operate and develop its own four-star hotel—giving the firm a distinct edge in understanding hospitality operations and market differentiation. HBG Design has created more than 21 million square feet of resort, hotel, gaming and entertainment space, including more than 20,000 four- and five-star hotel rooms.
HBG Design recently worked with 20th Century Fox Dubai World, Las Vegas Sands, Hard Rock International and Caesars Entertainment, and proudly serves more than 35 tribal nations across the United States, developing experiential gaming destinations that enrich and advance tribal enterprise.
HBG Design currently is designing the proposed Rock & Brews Casino Resort for the Kaw Nation in Braman, Oklahoma, a brand co-founded by rock legends KISS. Other current design projects include the expansion of the Choctaw Grant Casino Resort in Oklahoma, the expansion of the Seneca Buffalo Creek Casino in New York and the Point Casino Hotel in Kingston, Washington.
Get to know the HBG Design team and portfolio at hbg.design.