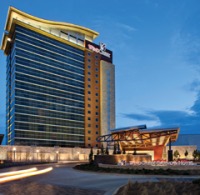 Hnedak Bobo Group's approach to casino design reflects a market-driven philosophy focused on driving competitive advantage and successful performance results for its clients. One of the top-tier entertainment and hospitality design firms in the United States, as ranked by Building Design + Construction, Hotel Business, Hotel Management, Hotel Design and Hospitality Construction, HBG offers a proven history of delivering distinctive design solutions. In addition, HBG is uniquely positioned as one of the largest providers of professional services in the Indian gaming industry, with client relationships representing more than 25 tribal business enterprises across the country.

HBG's latest initiatives are focused on maintaining project momentum by proactively responding to the industry's economic challenges. Continually forward-looking, HBG's leadership has leveraged more than 30 years of intellectual capital, as both gaming and hospitality designers and owners of hospitality assets, into innovative, technology-based design applications and services.

These proprietary initiatives are allowing the firm to expedite the delivery of its clients' casino and hotel solutions—allowing owners to open and generate gaming revenues sooner, giving them a significant competitive advantage in capturing market share.

From coast to coast, HBG sees the exciting results of its efforts. In 2011, two of HBG's casino resort designs have been recognized with coveted AAA Four-Diamond Awards: the Northern Quest Resort and Casino outside Spokane, Washington, and the Wind Creek Casino and Hotel, near the Alabama Gulf Coast.

Strategic growth and innovation define HBG's mission to constantly expand on technology and services—from social network technology that allows better communication with business partners, to continual exploration and application of advanced Building Information Modeling (BIM) technology. HBG also strives to create for its clients captivating hospitality, gaming and entertainment destinations that incorporate sustainable building functions, support a healthy, modern lifestyle and elevate the guest experience—without compromising design.

HBG is highly focused on delivering market-supported, operationally efficient investments for its clients while creating inspired, competitive products positioned for long-term viability and financial success.

HBG is positive about the health and vitality of the marketplace, and looks forward to continuing to offer the best in design and operational sensibility to its roster of esteemed, visionary clients.
For more information, visit www.hbginc.com.