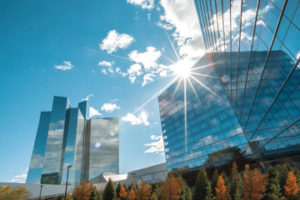 Tribal heritage is evident throughout the Mohegan Sun complex, operated by the Mohegan Tribal Gaming Authority. The hotels speak to oneness with nature—hence, the high-rise Sky Tower and the all-new Earth Tower, which debuted in November.
The 242,000-square-foot, $139 million Earth Tower grew out of "our overarching need for more rooms to accommodate overwhelming guest demand," says Ray Pineault, president and general manager of Mohegan Sun. "Earth Tower is roughly a third of the height and total rooms of Sky Tower, but incorporates much of the exterior look and feel."
The new tower offers state-of-the-art in-room technology including intelligent thermostats with occupancy detection, ultra-fast Wi-Fi, and in-room tablets to provide information about goings-on at Mohegan Sun. There are video dining menus with ordering capabilities in every guest room.
The tower also has 39 suites, including Horizon Suites (a minimum of 770 square feet) located at the end of each hall. They include pull-out sofas, separate living room areas and views of the Thames River.
The hotel lobby is home to indoor and outdoor lounge areas as well as the Bean and Vine Café & Wine Bar. The outdoor Earth Tower Terrace features gas fire pits and food and bar service, weather permitting.
The 2,800-square-foot Mandara Spa (at left), a Steiner Spa Resorts brand, is designed exclusively for massage and facial therapies. It features a seven-room refuge with a couple's suite, six dual-use rooms, a waiting lounge and retail area.
Earth Tower is a short walk from its sister structure and is linked by a scenic connector constructed from the Sky Tower lobby. Earth Tower also connects to the Casino of the Earth.
"In other words," says Pineault, "Earth Tower, while set off from much of the casino action, still allows folks to easily access Mohegan Sun's original casino and hotel with all its amenities."
————————————————–
Owner: Mohegan Tribal Gaming Authority
Architect: Kohn Pedersen Fox
Builder: A/Z Corp.
Investment: $139 million