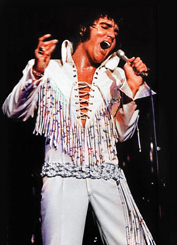 Elvis Presley's first Las Vegas performance was a bust. He was a 21-year-old singer on his first national tour. He spent a week in Vegas in 1956, billed as the "Atomic-Powered Singer." (Seems everything was atomic-powered in Vegas in those days.) But his raw virtuosity was lost on the audience and he was panned in the local media.
Bill Willard, a writer for the Las Vegas Sun, summed it up: "For the teen-agers, the long, tall Memphis lad is a whiz; for the average Vegas spender or showgoer, a bore. His musical sound with a combo of three is uncouth, matching to a great extent the lyric content of his nonsensical songs."
Thirteen years later Elvis returned to Vegas to shoot a movie with Ann-Margret called Viva Las Vegas, which includes a song of the same name that is often noted as the city's theme song. The movie was a huge success and began Elvis' close relationship with the city.
But it wasn't until 1969 that the images became synonymous. He was signed to appear at Kirk Kerkorian's International Hotel (later the Las Vegas Hilton). Over the next seven years, he put on 837 sold-out performances in front of 2.5 million people. More people saw Elvis perform at the International/Hilton than anywhere else in the world.
It wasn't just a show, however—it was an experience. A $17.50 ticket got you a steak or a lobster dinner, and slipping the maitre'd $50 or $100 got you seats down front. Elvis himself had an ongoing party in his suite high atop the International. Visiting musicians would gather with him and sing until the sun came up.
Las Vegas was the last place to host a performance by Elvis. He was scheduled to perform again at the Hilton in 1977, but his life was cut short by his untimely death on August 16 of that year.
But Elvis lives on in Las Vegas. Just last year, the former Riviera Boulevard, connecting the Strip with the Westgate Hotel (the new name of the International/Hilton), was renamed "Elvis Presley Boulevard." Just days before that, however, the Westgate was forced to close its exhibit, "Graceland Presents: Elvis the Exhibition" due to a dispute with the presenting company. In the meantime, a treasure trove of memorabilia—stage outfits, jewelry and letters, among other artifacts from the career, home and wedding of Elvis—are stored away while the matter is being adjudicated.
But you can still find tributes to Elvis on every corner in Las Vegas. Residents of the city are surprised to find themselves in checkout lines in the grocery stores behind Elvis impersonators. The spirit of Elvis lives on in Las Vegas.