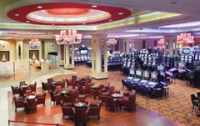 Gevgelija Princess Hotel & Casino
Gevgelija, Macedonia

OWNERS: Princess Group, Turkey
DESIGN AND CONSTRUCTION: Gemma Group, Macedonia
TOTAL INVESTMENT: €60 million
The Gevgelija Princess Hotel & Casino in Macedonia is one of those European surprises that seem to spring up in the unlikeliest of places. The latest offering from Sudi Ozkan's Princess group is a five-star hotel and 4,000-square-meter casino—large for any part of Europe, let alone the small border town of Gevgelija, population 22,000.
But with a few million Greeks just over the border, and a location right alongside the main highway between Central Europe and Greece/Turkey, the hotel is full on weekends and averages 40 percent occupancy during the week. And the guests are there to gamble.

Unlike casinos in a lot of European hotels, the Gevgelija Princess Casino was built specifically for the purpose. The hotel lobby, an airy rotunda of glass and stone beneath a glass-and- steel-framed dome, opens directly onto the casino reception area. Entering the rectangular, high-ceilinged casino, guests first encounter live gaming tables. Beyond the tables is the entertainment area, a semi-circular bar with a stage visible from all over the floor. Some 680 slot machines fill out the room to the left and the right.

There are 30 tables in the Las Vegas-style general gaming area and six in the more subdued VIP room, which also offers comfortable leather couches and chairs for the players' companions or those taking a break from the action.

Rounding out the casino offering is a poker room and a restaurant. The casino is open round the clock, seven days a week.

The hotel is operated under the Ramada Plaza name. It is a five-star luxury hotel with 128 rooms, two junior suites and one presidential suite. There is a VIP floor, an executive dining room and a ballroom, which during the opening festivities easily handled a sit-down dinner and entertainment for 300 people.

The hotel also has conference facilities for up to 500 attendees, a nightclub, two restaurants, retail shops, an indoor pool, sauna, spa and fitness center. An outdoor pool and tennis courts are being added.

The hotel and casino opened in December 2010 following construction that lasted two and a half years. Design and construction were handled by Gemma Group, a Macedonian company based in the capital Skopje. The €60 million property functions with a staff of more than 600.

The Princess group currently has 29 casinos and 15 hotels in Eastern and Southeastern Europe and Latin America/Caribbean.