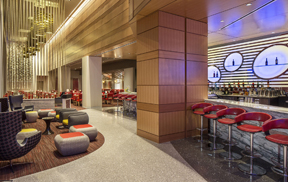 Cuningham Group Architecture is on the cutting edge of imagining "Casinos of the Future."
Shifting demographics and the younger generation's desire for experiences that are personal, mobile and social are the challenges facing the future of games and the facilities that house them. Cuningham Group is committed to a client-centered, collaborative approach called Every Building Tells a Story, emphasizing one-of-a-kind solutions that reflect clients' vision and the character of each property and site.
This philosophy challenges clients to embrace bricks-and-mortar changes that support the evolving nature of gaming and its customer base, while setting new standards for the future of entertainment.
What qualifies Cuningham Group for this forward-thinking work? More than 25 years of gaming and hospitality experience. It's brought clients award-winning and dynamic design solutions that add value and advance the art of entertainment design.
Cuningham Group's world-class portfolio—covering the spectrum from small, delicate spaces to complex, expansive projects—includes casinos, hotels, convention centers, restaurants, retail, master plans and support facilities for gaming and resort destinations throughout the U.S. and around the world.
Entertainment-based work has been a significant focus for the international design firm, which was founded in 1968 and provides architecture, interior design and planning services for a diverse mix of project types with a staff of more than 375 located in 10 offices.
For more information, visit cuningham.com.