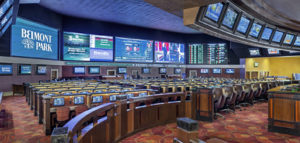 Renovating to gain market share, increase revenue or just keep up with the Joneses is a critical component of a casino's business model. These projects have become more complicated as the gaming industry expands beyond its traditional client base.
A successful renovation must leverage creativity and aesthetic appeal with a property's current assets and market position, and re-envision the space in a way that will attract new demographics—all while minimizing disruption and inconvenience for existing customers.
"It's complicated," says Paul Steelman, founder of global casino architecture firm Steelman Partners. "It's science meets arts meets commerce. Throw in a little psychology there—and voila."
What's Driving the Change?
Experts say that the key to any successful renovation is understanding the motive behind it. This requires honest introspection, examining strengths and weaknesses, and identifying core objectives within the context of a broader business plan.
A property may renovate to protect existing sales, grow market share, compensate for a poor initial design—particularly in the case of an acquisition—or stay ahead of the competition and avoid becoming stale. It may do so to lure a new demographic.
"You have to stay nimble, you have to stay ahead of the curve and look at what's happening in the travel and hospitality industry," says Lori Nelson, vice president of corporate communications at Station Casinos, which is currently renovating its flagship Palace Station property in Las Vegas.
While the process can be difficult and at times painful, casinos have become quite proficient at it.
"One of the good things about working in the gaming industry is you're working with experienced operators. They know their business and they know their clientele," says Bill Salerno, principal at SOSH Architects in Atlantic City. "For the most part, they're knowledgeable and decisive because they have to be. When you get a client outside that realm, it's almost like they're in slow motion."
The pressures of an increasingly competitive gaming market and the normal wear and tear on hotel rooms and casino floors necessitate the renovation and refurbishing of casino properties every five to 10 years, experts say, depending on current customer and revenue draws.
"I do think it varies by the situation, but if you talk to interior designers they'll say things like every five years you have to do soft goods—carpets, upholstery, etc.—and every 10 years you have to redo spots in your casino," says Tom Hoskens, partner and vice president at the Cuningham Group. "But the reality is, depending on how well these things are performing, you're going to do it more quickly or slowly."
"We think hotels should be renovated every five years. If you take longer than five years then they really start to look bad," says Steelman.
The return on investment from such a project comes in part by attracting new clients and taking better care of existing customers, increasing their length of stay and ultimately increasing time on device.
"If a renovation is done correctly, casinos can substantially increase the time on the machines and the time on gaming tables—it's almost like adding a casino. It would seem to me they have to be looking at a 20 percent ROI or they wouldn't do it," says Steelman, adding that the best return he's seen from a renovation within a property's existing infrastructure is 30 percent to 35 percent.
It almost goes without saying that one of the deciding factors in a renovation's success is how well the property was initially designed.
"If it was thoughtfully designed and constructed initially, it's a lot easier because you don't have to go back and patch or fix things," says Salerno, adding that a challenge for older structures is reconciling historical building code and style requirements. "If you had a very large renovation 30 years ago and then another large renovation 10 years ago, your project has to span across two different eras of construction."
Ultimately, it's critical to keep an eye on the future when renovating, as consumer tastes and technological trends can change much faster than architects and engineers can keep up with them. It's especially important for casinos, which must evoke a certain aesthetic and emotional response from customers and passersby.
"Casinos are like a five-minute thing," Steelman says. "People look left, look right—either they like what they see or they don't."
Integrate to Differentiate?
The trend is so-called integrated resorts, which provide a wide array of entertainment offerings to gamblers and non-gamblers alike, as well as a seamless vacation experience in which guests don't need to leave the property to enjoy dining, shopping, entertainment and other leisure activities.
As such, renovations of older properties must incorporate some degree of non-gaming activities.
"The standard amenities for these gaming resorts are restaurants, a hotel and an event center. Those are the generic standards," says Hoskens.
Adding non-gaming amenities is necessary, but it's not enough. The integrated resort route is undoubtedly the forward evolution of the industry, but operators need to introduce them in a way that works with their property. Simply slapping on a hotel, convention space, restaurants, fitness centers, retail and theaters may not yield the desired effect if it's not done strategically.
"We're very careful," says Nelson. "You don't just bring something new in for the sake of bringing it in. You do it because it's something unique that fits well into the property and is something the guest is going to like. We're very thoughtful in that decision-making. We don't just pull the trigger to pull the trigger."
Steelman says operators must be realistic about what they can do to improve their existing assets.
"Everybody who owns a casino thinks they have the makings of an integrated resort, even if they really don't. Once they're built and the land is purchased, if casinos are not programmed correctly as integrated resorts, they'll never become one. Some of them can't operate the amenities profitably and look at it like a giant retail mall where they stuff it with stuff. Stuffing it with stuff isn't necessarily the best thing."
With non-gaming offerings, the balance is in finding fresh and novel experiences that can be profitable within the existing infrastructure.
"There's a spirit in the buildings now that you need to have alternative things for people to do and experience. Starbucks is not a unique experience," says Steelman.
A good place to start for rebranding as an integrated resort is building out the hotel, as hotel guests are generally the casino's best customers, spending more time on the gaming floor and more money at other amenities.
"If you say to yourself 'OK, we must expand our attractions to attract more gamblers,' the first thing you probably have to do is expand the hotel," Steelman explains. "If you can't justify expanding the hotel, then maybe you're not ever going to be an integrated resort.
"Face it—there are pokey slot parlors all over the world. Maybe you're going to be that forever."
Mulling Millennials
The billion-dollar question for the industry remains how to renovate and rework properties and casino floors in a way that will entice younger people to not just show up, but to stick around and gamble.
There's no consensus or cookie-cutter template prescribing the best approach to doing this, but it's clear that longstanding assumptions about space usage and consumer preferences must be continually rethought. "Just creating a space and throwing in a couple of skill-based games does not make a millennial area," says Hoskens.
What's been kicked to the curb is the traditional notion of a casino floor as some sort of window-less alternate dimension designed to psychologically manipulate a gambler's senses.
"That's old school," Hoskens says. "You had a black box, you never told anyone what time it was and you hoped they'd stay forever."
Architects and operators are now finding that a more natural and less intrusive sensory experience is actually conducive to gambling because it helps patrons feel more comfortable and at ease in the environment.
"You have windows in casinos now," Hoskens points out. "As a matter of fact, we've had some clients tell us that the machines next to the windows actually produce more because people like to know what's going on outside."
"The glitz and sizzle that were part of casinos 20 years ago are being phased out," says Salerno. "We're not seeing the reflective surfaces and polished brass finishes. Today's materials selections are more subdued and more indigenous: more wood, more stone, more authentic."
Steelman concurs that creating a natural ambiance with greater exposure to the outdoors will be "paramount" to the success of casinos in the future.
"We think millennial casinos will have more windows and more daylight," he says. "Kids and 30-year-olds do not live in eternal darkness."
Traditional notions of return on investment on the gaming floor are also being re-evaluated. Areas must be allocated for uses like lounges that will generate returns in a way that is not as immediate or easily quantifiable as those from slot machines and table games.
"I think the biggest thing that a millennial casino will contain will be a diverse space. It won't be a giant warehouse filled with slot machines," says Steelman. "There will be some drama, some lighting, some natural effects."
While the recent trend has been toward building out non-gaming amenities, there will be a renewed focus on the gaming area as the center of the property. Sports and entertainment lounges, skill-based and competitive gaming arenas, additional non-gaming attractions and offerings that have yet to be developed will keep energy levels up and re-establish the casino as the place to hang out on-property.
"The goal is to make the casino the most fun room in the building. We've lost track of that a little bit," says Steelman.
Another reason casinos must be versatile and timeless in their use of space is that the games of the future have yet to be invented.
"There's a desperate need to create a gaming slot product that's fun for a younger person," Steelman continues. "Most of the casino companies are depending on slot machine manufacturers going through a major revolution, almost like the creation of the iPhone. Once we get this done, it'll cause a lot of casinos to be renovated. I think the casino market will need to do it before five years' time."
Play it Straight, Don't Procrastinate
While the calculus that goes into renovating a casino is very much a case-by-case exercise, resist the temptation to be pound-foolish and/or procrastinate. Punting to a later date may save money in the short term, but will inevitably mean higher capital costs, more intrusive construction and greater disruption to operations in the end.
"The renovations that are not that successful are at the casinos that have let it go for 20 years," says Steelman.
Phasing is Amazing
Ihe most difficult part of any renovation may be the disruption of construction. Good upfront planning and communication among stakeholders can help mitigate the impact.
When it's time to renovate, shutting down part of your property may allow the project to be completed more quickly. But the hassle for your customers may be too great a cost.
That's why most renovations employ a phased construction approach, which lets the whole property remain operational while minimizing the aggravation for customers. And while this route keeps guests and revenue coming in, it's far from a simple task.
"It's a lot more complex than doing an expansion in a dedicated area or building from the ground up," says Lori Nelson, vice president of corporate communications at Station Casinos.
Adding signage, keeping more staff on hand to reroute guests, and good-quality, visually appealing construction barriers can go a long way toward easing any friction.
"You try to give them a picture of what's coming up through renderings and things like that so that they understand what you're doing and get enticed about the new thing that's coming," says Tom Hoskens of Cuningham Group.
"You have to be really thoughtful and artful about renovating and moving the construction around so you're not impacting the bottom line," says Bill Salerno of SOSH Architects.
Nobody enjoys walking under scaffolding or through a maze of detours to get to their favorite entertainment spot. So reward customers for their continued loyalty during a renovation. On this front, the operator must strike a balance between the project's capital expenditures and the marketing costs needed to reward loyal customers and appease disgruntled ones.