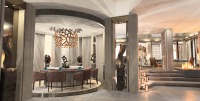 Caesars Palace in Las Vegas has been known as a luxury spot on the Strip for decades, but one addition that opened this year has redefined the term for the resort. Nobu Hospitality, the venture formed by actor Robert De Niro, Meir Teper and famous fusion chef Nobuyuki "Nobu" Matsuhisa to spread Nobu restaurants around the world, opened its first hotel in January.
The Nobu Hotel and Restaurant is a 181-room luxury boutique property featuring three styles of chic contemporary suites ranging from 1,000 square feet to 4,350 square feet in size.
To infuse a level of luxury one step up from the well-known extravagance of Caesars Palace and to do justice to the world's first hotel to carry the world-renowned Nobu brand, Matsuhisa and De Niro tapped award-winning New York-based designer David Rockwell, principal of Rockwell Group. Rockwell had designed the first Nobu Restaurant, opened in New York in 1994. (De Niro had been instrumental in bringing Matsuhisa to New York, having been familiar with the chef's first U.S. restaurant in Beverly Hills.)
The challenge to Rockwell was to create a design worthy of Nobu's famous Japanese/Asian/South American fusion cuisine, which has been called by many the "best food in the world."
The designs embrace comfortable simplicity with natural materials and textures counter-balanced with outsized elements to reveal a touch of Vegas flair. The rooms and suites, designed with input from Matsuhisa and De Niro, include custom art by up-and-coming Japanese artists that feature a mix of traditional prints and expressionist designs. The main focal point of each room is a feature wall that displays a custom "shodo"-style calligraphy.
The bathrooms have teak fittings, stone tile and sleek modern fixtures. The over-sized walk-in shower is made with traditional black Umi tiles and offers multiple showerheads and a teak bathing stool, a fixture of traditional Japanese bathhouses.
Overall, the interiors of the hotel showcase natural materials fused with Japanese elegance. The real showcase spaces in the property are the suites—the Hakone, the Sake and the Nobu Penthouse suite, which was named one of the top suites in the world by Elite Traveller.
The 10 Hakone suites draw inspiration from the Fuji-Hakone-Izu National Park just outside of Tokyo, famous for its hot springs and views of nearby Mount Fuji. The six Sake suites are inspired by traditional sake drums, and feature a spacious living room with billiard table, a separate entertainment/media room, high-definition television screens, an open entryway and centralized bar and pantry for relaxing or entertaining.
The two Nobu Penthouse suites are bi-level spaces with two-story vaulted ceilings, with five bedrooms. Maxing out at 4,350 square feet, the Nobu Penthouse can configure up to five bedrooms, and feature double-height, teak panel screens that contour a curved staircase, a second-story terrace that overlooks the entire suite, a 90-inch flat-panel television screen that adorns an impressive two-story-high wall, a large living room with leather sofas, dining table with seating for six, billiard table, desk and large master bedroom suite.
The suites present what Rockwell calls the perfect balance of fun and luxury, while integrating what is known as the "Nobu lifestyle." To create the balance, Rockwell fused distinctive design elements with Eastern and Western influences into a visual and textural masterpiece.
OWNER: Nobu Hospitality (Principals, Chef Nobuyuki "Nobu" Matsuhisa, Robert De Niro and Meir Teper); Caesars Entertainment
Architect/Designer: David Rockwell, Rockwell Group
Total Investment: $30 million