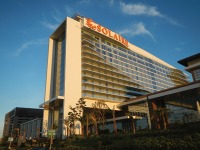 If ever a casino design project reflected its surroundings, it's the 1 million-square-foot Solaire Resort in Manila Bay. Opened last March, the casino resort carries the environment of its seaside location from the outside to the inside, according to Paul Steelman, principal of Steelman Partners, design architect for the project.
"Solaire is a French word meaning 'the breeze from the air,' which clearly demonstrates the inspiration behind Solaire Resort and Casino," Steelman says. Starting with the exterior design, the idea behind Solaire was to reflect "Manila Bay's famed spectacular sunset and the breeze that it brings every day."
Steelman says the firm sought to create a timeless design for the beachfront building. "The podium exterior was designed with a crisp horizontality that provides shaded terraces and protected views," he explains. "This is contrasted by the undulating articulation and verticality of the hotel tower. These visual and experiential contrasts are rendered most apparent along the porte-cochere as visitors are drawn across the entryway and under the mass of the tower."
Inside, tropical and colonial inspirations create a look that is familiar to the Filipino, Steelman says. "From its mother-of-pearl inlaid posts, hardwood beams, trademark lattice lintels, blown-glass and steel dividers, and the botanical-printed carpets that echo Spanish flamenco shawls, the main area offers a glimpse of the country's finest."
The lobby is graced with authentic, hand-cut crystal chandeliers and towering foliage décor. High-gloss abstract art by Matthew James adds to the effect in the reception area.
Solaire has approximately 500 luxuriously appointed rooms, suites and bayside villas that offer sophistication in a comfortable setting. The Resort Villas range from 600 square meters to 1,000 square meters each, with a majestic view of the Manila Bay sunset. Each villa also includes its own pool, Jacuzzi, and putting green.
The overall concept of the casino at Solaire Resort and Casino was delivered by the use of three finishes. The walls are a light cream color. Natural tan marble was used on the portals and floor. Highly dark wood lacquer veneer panels with accent metal trim bring reflection, depth and contrast to the space.The lavish casino took a stratified design approach where each market segment has its own entry/lobby, casino, restaurants and support space. The market segments are mass "local" gaming, "GEN Y" gaming, mass VIP gaming and VIP gaming. Both lobbies are accentuated by numerous contemporary art pieces by Filipino artists.
The Dragon Bar is the centerpiece of the lobby. There, an impressive dragon sculpture looks over the bar. It is made up of 1,500 individual crystal components, giving the place a regal appearance. The ceiling is painted with a gold finish, softening the look of the space.
OWNER: Bloomberry Resorts
DESIGN ARCHITECT: Steelman Partners; local architect NS Incorporated Architecture; lighting design, Shop 12
INTERIOR DESIGN: DSAA
CONSTRUCTION CONTRACTOR: D.M. Consunji Inc.
PROJECT MANAGER: SIP International
TOTAL INVESTMENT: $1.2 billion (estimated)