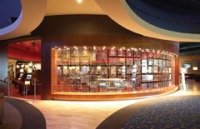 Grosvenor G Casinos
United Kingdom

OWNER: Rank Group Plc
DESIGNER: Cadmium Design
INVESTMENT: Approximately £1.3 million per property
The Grosvenor Casino division of U.K.-based gaming entertainment operator Rank Group Plc has been using design to create a lighter, more joyous experience for guests of its G Casino-branded venues.

Starting with the first Grosvenor G Casino in Manchester in 2006, Grosvenor has been working toward its goal of having 20 of the properties by the end of 2012. By the end of 2011 the company expects to have 16 operational.
What sets the Grosvenor G Casino apart from its predecessor is a matter of intent on the part of the operator. Where the traditional Grosvenor property is primarily a place to concentrate on the game, the G Casino encourages guests to eat, drink and play in a more social environment.
From the beginning, achieving that result has been the task of Cadmium Design. The London firm created the design concept for the original Manchester property, and has been involved in the implementation of the work throughout.

The Grosvenor G Casino experience begins outside the entrance, where the use of light and signage draws the visitor into the property. Immediately inside the entrance area, the environment is energized with the feel of an entertainment space, full of light and life, with no barriers to exploring further. A "games wall" reminds the visitor that this is all about play.

The visitor then proceeds to the main gaming floor. But instead of being confronted immediately by the tables, a "veil" of Perspex panels offers separation from the games, while at the same time allowing a reconnaissance of the action. On closer inspection the panels are decorated with illustrations of faces expressing various versions of joy. Throughout the casino, elements of humor keep turning up, often where one least expects.
The rapid pace of technological advancement has played an important part in the G Casino evolution. In just the past five years, new materials and printing techniques have brought down the costs of creating some key effects. To convert three existing Grosvenor Casinos in 2010 cost a total of £3.9 million.

The strategy appears to be working. In a comparison of provincial casinos—those outside London—the G Casinos averaged 1,300 more visits per property per week than the 2,300 recorded at their Grosvenor counterparts. Average weekly EBITDA at the G Casinos was £29,200 compared to £16,800.

Lower costs and more revenue? Sounds like successful casino design.