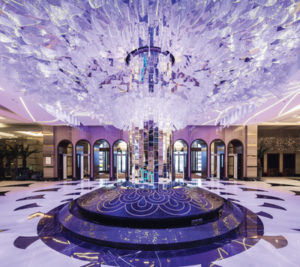 The new Sochi Casino & Resort, which debuted in January in the mountain resort of Gorky Gorod, Russia, was originally built as a media center for the 2014 Winter Olympics.
Today it's a dazzling resort in the Las Vegas tradition: a progressive feast of grand spaces, sweeping vistas, and a casino with 70 gaming tables, 560 slot machines and a poker club. It's all the sparkle and glitz of the Strip—on the shores of Black Sea. And it's already hosting headline events—the 2017 PokerStars Championship was held there in May.
In 2009, Russia limited gaming resorts in the country to a handful of designated zones: Azov City in the Krasnodar region; Primorye near the Far East port of Vladivostok; Kaliningrad on the Baltic Sea; and Altai in Siberia. Sochi was added to the list to make use of infrastructure created for the Olympic Village.
Gaming is just part of the entertainment at the resort, designed by Vegas-based architectural firm Steelman Partners. Its Velvet Theatre features Russian pop stars like Vladimir Presneyakov and Vera Brezhneva in a cabaret setting. The resort has nine bars, a cluster of boutiques, and several restaurants under the direction of Executive Chef Ilya Zakharov (six days a week the casual-dining bistro, Baffet, serves up breakfasts in the Russian, European and American styles).
Evgeniy Kudelya of Russia's Federal Tourism Agency has called Sochi "the most popular and one of the best resort areas in Russia," set between the sea and the towering Caucasus Mountains. The new casino is expected to not only boost tourism but lengthen the tourist season, and attract visitors from Turkey, Iran, Iraq and Israel as well as mainland China.
"Sochi Casino and Resort is the first entertainment complex of a global scale" in the area, said Mikhail Danilov's Domain LLC in a statement. "It's a project with a unique concept for Russia, in the spirit of the best casinos of Las Vegas."
Owner/operator: Domain LLC
Architect: Steelman Partners
Investment: $63 million