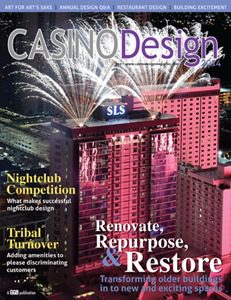 Time was, when a hotel in Las Vegas fell into disuse, disrepair and a lack of capital reinvestment, the choice was simple. Knock it down and start over.

But those days are gone, if you can trust the recent trends of renovate, repurpose and restore for older buildings along the Las Vegas Strip, often bringing new brands to the city. The "hotel within a hotel" concept has many examples in Las Vegas, from the Four Seasons at Mandalay Bay to the El Cortez Cabana Suites in Downtown Las Vegas. But the radical renovations of existing structures didn't really come to fruition until the past few years.

When Caesars Palace decided to renovate one of the property's original towers back in 2011, it wasn't just going to throw up new wallpaper and lay down different carpeting. Caesars Entertainment reached a partnership agreement with Nobu Hotels, an offshoot of Nobu Hospitality, a company headed by famous Japanese chef Nobu Matsuhisa. Along with another celebrity partner, actor Robert DeNiro, the company created a high-end "boutique" hotel that is just off the Caesars Palace casino floor.

The introduction of new brands to Las Vegas is good for the town, says Gigi Vega, general manager of the 181-room Nobu Hotel and a Caesars luxury hotel operations executive.

"There is a need now to find a reason to come to Las Vegas, and we're trying to create that need by having a different experience," she says.

Boutique hotels and the related amenities also open up Las Vegas to more markets, says Seyhmus Baloglu, UNLV professor and assistant dean of the Harrah's Hotel College.

"The marketing focus has always been on the number of heads rather than average spending per person on their visit," Baloglu told Vegas.com in 2012. "Mass tourism is very important for Las Vegas given the room and meeting space capacity. However, there is a market out there who would be interested in gaming or non-gaming niche and boutique concepts. They should be promoted, listed, and made available in multiple online and offline distribution channels, which could further diversify the tourism product Las Vegas offers."
Cromwell Achievement
Across the street from Caesars Palace, Caesars Entertainment took over the Barbary Coast in 2007. After considering several plans for the property, the company decided to renovate and rebrand. The original idea of rebranding the hotel as the well-known boutique Gansevoort brand went by the wayside when one of the Gansevoort investors was alleged to have ties to organized crime. Thus the name Cromwell was born, and Caesars is building the brand from the ground up.

A true boutique hotel (in a city where the 3,000-room Cosmopolitan is considered "boutique"), the Cromwell has 188 rooms, which includes 19 suites.

Eileen Moore, who oversees operations at the Linq, Flamingo and Cromwell hotels, says the idea was to provide a higher-level customer with more personal service.

"We'll get to know our customers on a much more intimate level," she says. "Being stand-alone is probably the most unique aspect of that property. So literally, customers will pull off of Flamingo Boulevard, drive a very short distance into our porte cochere, walk 10 to 15 feet to their front desk, walk in, again, another 10 to 15 to the elevator, straight to their room."

Karie Hall, the general manager at the Cromwell, says this isn't a property that wants its guests in the casino the entire time.

"The suites are really built for socializing," she says. "Full-size refrigerators and wet bar areas, and designed with the whole social process in mind, of getting ready, and getting prepared for a nightlife experience. All the details were thought about in those rooms. And then, it's a luxury hotel experience, so we have our own private gym. We have many of the great amenities and surprise elements that you'll find when you check in. And we want it to be an experience where guests always find something new going on in the hotel and the property."

The property's signature feature is the rooftop Drai's nightclub/dayclub. Victor Drai pioneered the nightclub scene in Las Vegas with a club of the same name, in the same hotel, except when it was the Barbary Coast. Moore says it is the best nightclub in the city.

"That space is one of the best spaces that's available in this market," she says. "And then to have it on the rooftop and be so expansive… Unlike many other clubs, where only a few private VIP tables have the best view, Victor is truly a visionary and designed this club so that the massive amount of people that will go through it, will all get access to that view and that experience."

Hall says she has been impressed with Drai's attention to detail and the experience.

"He thinks about it from the moment you walk in," she says. "What is your first look, what's the first thing you see, how is it visually stimulating if you're not at the property, but maybe you're staying at Caesars, or you're staying down the Strip, and you'll be able to see what's going on there, and want to be a part of that. So he really thinks about it all, and we're very lucky to have him as a partner. And he challenges us, in our space, to do that as well."
Style, Luxury, Service
Another nightclub impresario, Sam Nazarian, founder of sbe Entertainment, is part of the next generation after Drai. Through a partnership with MGM, Nazarian operated some of the most successful clubs in Las Vegas (and Los Angels and Miami, as well), including the stunning Hyde at Bellagio.

But Nazarian wanted to take it further and expand his burgeoning hotel empire to Las Vegas. In 2007, Nazarian and his partners purchased the venerable Sahara, with the plan to implode most of it and build from scratch. With the arrival of the Great Recession, however, plans changed. And in 2011 sbe closed down the Sahara, which it had been operating during the planning stages but had learned what worked on the Las Vegas Strip.

"We were running the Sahara during this time," he says. "I was 30 when I bought it, so we were running it for four years, recognizing a whole new pattern. But at the same time, we were being educated, because there were so many projects that opened between 2007 and 2011—Cosmopolitan being the last. This is how the lifestyle hotel has taken over the Strip."

Joe Faust is the head of Dakota Development, the branch of sbe Entertainment that develops these hotel, nightclub and restaurant properties. The motto for Dakota is inspiring—"Collaborate with industry visionaries to create culturally transcendent properties that become a place of community for generations."

Dakota has built properties from greenfields and rebuilt existing buildings. Faust says there are pros and cons to each.

"It's hard to say whether one is easier than the other," he says. "Ground-up construction which we have under way in Seattle and in Philadelphia is certainly a lot more straightforward. You've got a clean slate and you can kind of design what you want, you can size the rooms the way you want, you can make the
program be what you want it to be.

"But the adaptive reuse and the renovation of properties is also fun. Just the mere fact that you have to work with the box as it is can be very challenging. And it's actually very exciting to take some of the worst aspects of a building and find a way, through creativity, to make it the best thing about a particular project. We did that a lot at SLS Vegas."

Heartbreak Hotel
Arash Azarbarzin is the president of sbe Hotels, which includes such brands as SLS, Raleigh, Redbury and others. He says the complexity of the transformation of the Sahara to SLS was a matter of what part of the hotel you were in.

"There are certain areas in the hotel which were added by Mr. (Bill) Bennett, for example—the NASCAR Café, the Sahara Theater, and all of those new areas with high ceilings and very good bones and structure," he explains. "In those areas, we kept the walls pretty much where they were, and we just enhanced it. There are two towers that Mr. Bennett added in 1989 and '90, what we call the World Tower today, where we did a very nice renovation, but the bones and infrastructure were great. Other areas, like the old Tunis Tower, which is the Story Tower today, and Alexandria Tower, which is the Lux Tower today, we went down to a complete gut renovation.

"We went down to the concrete. Everything—plumbing, electrical, rises—they were all taken out, and a brand new infrastructure was added. And there was a wooden structure in the middle of the hotel that was the original bingo parlor, that had nine-foot ceilings, and it was really a bottleneck that we completely took out and replaced with a brand-new building."

Faust says "good bones" means exactly what it sounds like.

"When we were looking at properties to buy early on in Las Vegas, we looked at a handful of different properties to take the lens off and see what's exactly there. You're looking at what the structure is, how you can open it up, how you can fit what your ideal vision of the property would be."

Some properties wouldn't work, Faust says.

"We looked at the Riviera, and I told Sam that we'd never be able to work with it because of the way it was constructed and built. It had columns and load-bearing walls and all sorts of things coming down so you could never be able to adapt exactly what we wanted to do."

The Sahara was different, says Faust.

"It had three separate guest room towers. It had a low-rise that was not that terribly old, but you could gut it back to structure and reuse it. And we did a lot of that; we used a lot of the existing MEP systems that were already in place that were in decent shape. Then we put in new and we added things that we needed that didn't exist in the property. So that's what 'good bones' means. It gives us a good box to work within."

Although the Sahara brand was going away, Faust says the company wanted to retain that connection with the past.

"When we started designing, we talked a lot with Philippe Starck and our architect, Gensler, how we wanted to hold on to parts and pieces of the history," he explains. "The Sahara was always an iconic property, and we're hoping the SLS will be the new iconic property. The day we closed the doors to the Sahara, Sam came to me and said, 'Take all the 'S' door handles and don't sell them; keep them. I don't know what we'll do with them, but hang on to them.' Subsequent to that, we discussed it, and we made it into a chandelier. Some of the images that we have in the carpet, we wanted to call back to the original Sahara."

One of those images was a postcard of the old bingo hall, the original structure, woven into the carpet. The new owner retained Congo as the name of the ballroom. "It's such an iconic room," says Faust.

Towering Success
The three towers of SLS allow the hotel to offer a different room experience in each, says Azarbarzin.

"In Las Vegas, we have three different room products—completely different," he explains. "SLS Lux is a super-luxurious product, a larger room. Out of the 286 rooms in that tower, 246 of the rooms are suites, and they all have all the amenities and bells and whistles that you can ask for in any luxurious hotel. And then our more standard rooms are in the World Towers that we created really for the conventioneers, and people who are a little bit more price-conscious. And then there is the Story Tower. It's only 200 keys, and we wanted to make it more fun for the younger demographics, the people who were going up there for the weekend to a bachelor or bachelorette party, going up there to have a lot of fun.

"So when you go to book a room in Las Vegas at our property, the range can be as much a hundred-dollar difference between our convention room and our luxurious room, but everyone can experience the hotel at their budget level."

The amenities of the rooms are state of the art, he says, from work-ready desks to 55-inch high-def TVs on which you can download movies, shows or your own content.

Sbe Entertainment is known for its nightclubs, and SLS Las Vegas will have three distinct brands.

"We always knew the Sayers Club was going to go in there," says Faust. "We wanted it to be the same as it is in Hollywood. In L.A., it is a little bit smaller; it's more of a living room setting. That's the excitement of that live performance in a very small environment, so we always knew we were going to have that type of environment for the Sayers Club.

"When we started out with Foxtail, it kind of evolved as we were designing it. It was originally going to be the lounge off the casino, and then we decided we would close it off and embrace the pool, similar to what Wynn did for the Encore Beach Club. We wanted to open up to the pool, embrace the pool, and make it be a little bit of our version of Hyde Bellagio, our nightclub there. But instead of having the fountains as our focus, our swimming pool becomes the focus."

LiFE, in the former theater, was always going to be the big-box nightclub, Faust says. "We loved the tiered seating that existed when it was the theater, because that's terrific in a nightclub environment."
Doing Delano
The lifespan of a hotel in Las Vegas can vary widely. Whether it's the Golden Gate in Downtown that has survived for more than a century or the ill-fated Fontainebleau, which didn't even make it to opening day, the popularity of hotels is dependent upon lots of things.

Take THEhotel, the annex to Mandalay Bay that opened in 2003, for example. Just a separate all-suite hotel tower when it first opened, it was branded THEhotel in 2006. Matthew Chilton is the general manager of the new Delano Las Vegas, as it's called now, and explains the rational behind the most recent rebranding.

"Our president never really liked the name," he laughs. "It was always, 'What hotel? THEhotel?'… K
ind of like the old Abbott and Costello bit, 'Who's on First.'"

So the rebranding of what had been a quite successful hotel despite the eponymous name had been discussed almost from the start. The partnership with Morgans Hotel Group just made sense. Morgans had been looking for opportunities to expand the Delano brand so popular in Miami's South Beach (a Delano was supposed to be part of Boyd Gaming's Echelon project) and MGM was looking for a signature brand.

"We saw Delano fitting into the category, fitting into the Mandalay Bay campus," says Chilton. "It's a natural fit. More modern, luxury, driven by a boutique style experience."

The changes were dramatic, but accomplished without closing down the hotel, a feat that is somewhat amazing given the scope of the changes.

"Everything is different," says Chilton. "All the rooms were completely done over. The public spaces are all changed. We wanted to make sure all surfaces were touched. It was a total transformation of the entire property. The lobby has a new flow, bringing in designs from the desert. Taking the edge off and warming it up."

Although a hotel with 1,117 suites isn't usually described as "boutique"—except perhaps for Cosmopolitan Las Vegas—Chilton says the design takes lessons from true boutique hotels in New York or Miami or Chicago.

"We added these little vignettes of great, comfortable seating to improve guest-stickiness in our lobby," he says. "It's more than a transition space. The lounges are getting more visitation, and people are just hanging out in this space to take in the great vibes."

Unlike the Cromwell, which is an entirely new brand, Delano has some cache, particularly for frequent visitors to Miami Beach.

"There is an audience that is familiar with the brand," says Chilton. "It's only 188 rooms so their imprint isn't as big as ours will be now that we've launched marketing to raise awareness."

The marketing campaign is called "Defiantly Inspired," and Chilton says his entire staff has taken that to heart.

"It reflects all the different things we're trying to do with our storytelling and the day-to-night transition when the vibe changes," he says. "It doesn't feel like you're in Las Vegas. We knew there was a desire for this, and it's being reinforced by some of the other brands that have entered the market lately. It's a bit of a lifestyle boutique movement, but we're in our own little niche."

Despite the fact that the hotel remained open during the renovation, construction on the property was completed within a year.

"When you do room renovations, it's customary to stay open," Chilton explains. "But it was new and foreign territory for all of us to open a new hotel while the former one was still operating.

"Essentially, it's a lot of in-depth coordination with our design team, and then the construction team. We told them what we needed to keep operating. There were lots of temporary walls that were up that simply shifted from side to side as the renovations were completed.

"In my honest opinion, I think it went a lot better than it could have gone. Yes, there are those strings of days when you have to get the old granite up and it's noisy, but in hindsight, that didn't last long."

New restaurants and lounges also got a full makeover at Delano. Della's Kitchen is described as "historic farmhouse meets urban kitchen." Franklin, the lobby bar bearing homage to Franklin Delano Roosevelt, is all about "the perfect cocktail," says Chilton.

But the big changes will come next year when a new restaurant is introduced into the space now occupied by the iconic Mixx restaurant and nightclub at the top of Delano, with its breathtaking views of the Strip. Mixx will disappear but the partnership with Alain Ducasse will continue with the introduction of Rivea, a French restaurant with a Riviera theme, only the third of its kind (other locations are in St. Tropez and London). The lounge area of Mixx will also be renovated with a name and theme to be announced. Chilton will try to recapture the magic of what was once one of the hottest nightclubs in Vegas.

The piece de resistance for Delano will be the beach club, which will occupy part of the 11-acre Mandalay Bay complex, and only available to Delano guests.

"It's such an important part of the Delano brand, as it is in South Beach," he says.

Hotel Impossible
So where do we go from here?

Hotel conversions aren't limited to Las Vegas. Wherever there are older buildings, a hotel conversion is possible.

In Atlantic City, the closure of four and maybe five casinos has opened up the possibilities of re-use of the former casinos. The Claridge, a stately older building that opened as a hotel in 1930, converted to a casino in the 1980s and incorporated into Bally's Atlantic City in 2003, was sold to a Florida company recently. Reopened as a hotel, the casino area will be repurposed for art galleries and a children's museum.

In Sioux City, Iowa, the new Hard Rock Casino was converted from a converted warehouse, the Battery Building, built in 1906. The building's signature clock tower has been retained, but all the modern elements of a Hard Rock hotel are included in the design.

So whatever becomes of this latest trend in casino design, it will only accent the services and amenities offered to gaming customers, combined with the superior customer service that characterizes top casino resorts.