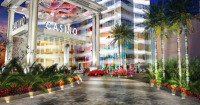 After 20 years spent trying to secure a casino, the Gulf Coast community of D'Iberville, Mississippi anticipates the opening of the Scarlet Pearl Casino Resort before New Year's Eve 2015.

The 500,000-square-foot resort destination was designed by SOSH Architects to compete with existing coastal casinos by offering various forms of recreation beyond gaming. The goal and concept of the Scarlet Pearl Casino Resort project was to celebrate the enchanting past, intriguing present and joyful future of Mississippi by creating a destination not only focused on gaming, but also on family entertainment.

The project's core comprises an 18-story, 300-room hotel tower and a 60,445-square-foot casino with 1,350 slot machines, 45 table games and 10 live poker tables. In addition, guests can enjoy a variety of amenities such as a spa, fitness center, 10,000-square-foot event center, outdoor pool and waterfall—plus a 42,000-square-foot, 36-hole professional miniature golf course. Guests can also sink their teeth into an assortment of dining options including a 175-seat gourmet restaurant, a 250-seat buffet as well as three other signature restaurants, and a 24-hour café/coffee shop.

The iconic 225-foot-tall all-white glass façade of the hotel tower is dotted with wave patterns reminiscent of the surrounding waters, celebrating the resort's location on the Gulf Coast. The natural views of the surrounding area create an added luxury to the resort. As the tallest building in D'Iberville, the spectacular glass structure will be visible from far distances, allowing for a sense of arrival as guests approach the destination.

While the building's glass façade expresses a contemporary interpretation of historic Southern architecture, the interiors salute Southern hospitality with open, bright and family-friendly spaces. The design generously quotes local styles, materials and colors to ensure that visitors feel welcome to come back time and time again.

Scarlet Pearl successfully blends the importance of family entertainment destination with the glamour and excitement of a brand new casino.
Owner: Lands Holdings 1, LLC
Architect: SOSH Architects
Contractor: Roy Anderson Construction
Interior Design: SOSH Architects
Investment: $250 million