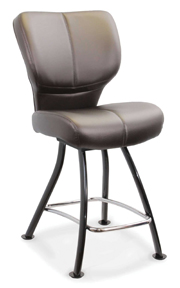 Gary Platt Manufacturing has a long and successful history of working with designers on a broad range of casino projects. One reason designers prefer Gary Platt is that every chair in its collection is customizable, with a wide range of upholstery, design and accent options. Plus, each chair is handcrafted to perfection, bringing unsurpassed comfort to each player's gaming expearience.
One of Gary Platt's newest creations is the Monaco line, which has a distinctive style and attitude, stripping down preconceived notions of casino chairs and remixing them from the foundation up. Monaco chairs' patent-pending design and razor-sharp details bring a new meaning to unsurpassed comfort with a chic essence worthy of the name Monaco.
The San Remo model takes its name and inspiration from the Mediterranean village of San Remo, nestled against the shore in western Italy. Gary Platt's San Remo chair perfectly blends the city's elegance and coastal atmosphere with clean lines and a curved back that gently surrounds each player with a gentle embrace. Its front and seat are leather, and its fabric back allows each designer to fully execute a design vision.
Also new in the collection is the Sonoma Bench. Perfect for dual-play environments, the Sonoma Bench features a seamless seat and a long, sleek back that is gently curved on each side, creating an intimate seating environment for couples. Leather seat and front combine with a fabric back to create visual intrigue. A surround footrest provides room enough for both players to relax in style.
Experience these innovative seating designs and many more at Gary Platt's G2E Booth 2618 at the Sands Expo Las Vegas, October 3-5.
For more information, visit garyplatt.com.