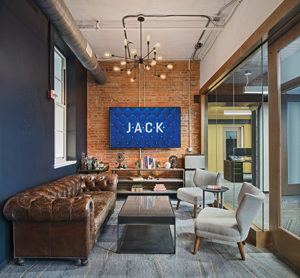 Rebranding an entire casino can be a daunting task. And when it's multiple casinos, it can be overwhelming. But that's what confronted Jack Entertainment when it took over the Horseshoe casinos it co-owned for a time with Caesars Entertainment in Ohio. And to add another level of complication, they are renaming the Greektown casino in Detroit, which Jack bought in 2013, as the Jack Detroit Casino Hotel Greektown. The entire exercise was undertaken when the former Rock Gaming decided to rebrand as Jack Entertainment.
In Detroit, an $80 million renovation/rebrand was capped off by a bit of history. Joining the property was the former St. Mary's School, designed by Puis Daubner, built in 1868 and used as a school, orphanage and sisters' residence for nearly a century. When the school closed in 1966, it became the St. Mary's Community Center and given Michigan historical status in 1980.
The former St. Mary's is now the headquarters of Jack Entertainment, and joined by a skywalk with the soon-to-be Jack Greektown property.
Jack Entertainment's new home is designed to foster collaboration among team members while preserving and enhancing the building's original architecture. The contemporary new offices will feature large open spaces, modern furniture and a beautiful fifth floor mezzanine. JACK Entertainment will occupy the second through fifth floors, leaving the first floor for a future retail tenant.
Matt Cullen, the president and CEO of Jack Entertainment, says company is committed to urban revitalization, pointing to company founder Dan Gilbert's role in revitalizing downtown Detroit and Cleveland, where he owns the NBA's Cavaliers.
"At the core, our company is committed to urban revitalization," said Cullen. "We believe in fostering positive change in the downtown areas where we reside and this move is consistent with that commitment. Our move is not only good for our business, it also gives new life to this historic building and it benefits those around us. Success for our Greektown merchants and community means success for Detroit."
OWNER: Jack Entertainment
DESIGNER: Neumann/Smith Architects
INVESTMENT: $7 million (including in a total $80 million renovation of Jack Casino Hotel Greektown)