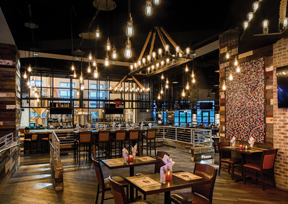 SOSH Architects was founded in 1979 on the core conviction that quality design continually rewards the community, the client and the design team. The firm has steadily grown from a company of four partners to its current size of approximately 50 design professionals and support staff engaged in the execution of master planning, architecture and interior design commissions worldwide.
SOSH's philosophy drives a design process that values exploration, visualization and the contributions of multiple voices to deliver the best design solutions that are the result of thoughtful collaboration and creative analysis.
With offices in Atlantic City and New York, SOSH has worked with an impressive array of hospitality design projects from restaurant rebranding and new tower construction to complete resort expansions.
SOSH has handled every aspect of hotel and casino designs on multiple properties, nationally and internationally. Every project brings with it a unique mix of space types including gaming floors, hotel rooms, restaurants, entertainment venues, ballrooms, retail stores, lounges, pools, wellness retreats, office space and food service. Each has its own unique set of challenges and technical requirements, which SOSH addresses to meet the business objectives of its clients.
For more information, visit sosharch.com or contact 609-345-5222 or 212-246-2770; email sosh@sosharch.com.