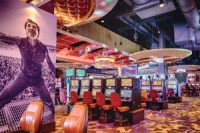 Start with a century-old Iowa warehouse known for its weathered brick walls, commanding six-story clock tower (complete with roof battlements!) and stunning views of the wide Missouri. Add an iconic entertainment brand and a 50-foot electric guitar. What have you got? The Hard Rock Hotel and Casino Sioux City.

Sioux City Entertainment invested more than $128 million to transform the former Battery Building into an integrated gaming resort with a 54-room boutique Hard Rock Hotel, indoor and outdoor concert venues, a bevy of restaurants, bars and retail shops, and of course, a Hard Rock Shop. The Lobby Bar is a statement unto itself: the three-story marvel, with a towering liquor display filled with hundreds of bottles, replaces the traditional reception area and offers a unique welcome to guests.

Then there's the casino. The 50,000-square-foot gaming floor, with more than 800 slot machines and several dozen table games, sports a purple leopard-patterned carpet, decorative light fixtures bearing purple drumsticks, and the trademark oversized Hard Rock guitar. From every direction, guests can see iconic black-and-white images of their favorite rockers, including Jimi Hendrix, Janis Joplin, Billy Idol and Peter Frampton, and concert posters from bands like the Ramones, the Stones, Devo and the Cure. There's plenty of rock memorabilia from stars like the Beatles, Michael Jackson and Kid Rock, and a stage costume once worn by Mick Jagger.

The rock 'n' roll theme continues at Anthem, an 800-seat concert hall with an old-style marquee at the entryway, and the World Tour Buffet, which includes a full wall of multicolored cassette tapes.

The 100,000-square-foot structure at Third and Water streets—a sterling example of Romanesque revival architecture—dates back to 1905. It opened in 1906 as a manufacturing plant for scissors and cutlery, and in the 1940s became a battery factory.

Throughout the redevelopment, working in concert with Sioux City Entertainment's nonprofit partner, Missouri River Historical Development, architectural firm Friedmutter Group of Las Vegas was careful to maintain the original brick and much of the original timber, giving the Hard Rock an edgy, industrial look inside and out. Massive archways, where cargo trains once pulled into the warehouse, have been preserved. Vintage brick has been retained even in the guest rooms, all of which have views of downtown Sioux City or the Missouri River.

Not surprisingly, the resort was an immediate hit with the public, artistically and economically. More than 214,000 people visited the casino floor in the Hard Rock's opening month and wagered nearly $7.2 million, getting the new destination off to a great start.
Operator: SCE Partners LLC, an affiliate of Warner Gaming
Architect/Interior Designer: Friedmutter Group
Investment: $130 million all-in / $48 million construction