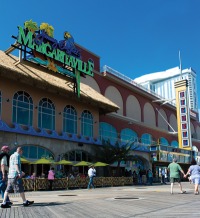 Resorts Casino Hotel hired SOSH Architects and interiors firm McBride Design to recharge the Atlantic City property with a series of Jimmy Buffett-themed attractions. This complex project contains three main parts: Margaritaville Casino and 5 O'Clock Somewhere Bar; Margaritaville Café, retail store, and coffee shop; and Landshark Bar & Grill Pier. Paying close attention to the particulars of Resorts' oceanfront site and its existing Art Deco architecture, SOSH and McBride set out to bring a new level of energy and activity to the Boardwalk property. The completed design blends the dignity of the historic building with the lighthearted island lifestyle, refashioning Resorts into a dynamic entertainment destination.
Margaritaville Casino, featuring 160 slot machines, brings the relaxed atmosphere of the tropics to Resorts' gaming floor. SOSH and McBride employed a menagerie of festive colors, island-inspired patterns (such as stylized wave and palm elements), and select Boardwalk views to create this open yet intimate space.
The 5 O'Clock Somewhere Bar, featuring a wave-colored glass-tile bar and a wooden cabana canopy, contributes to the beach-like atmosphere. Margaritaville-themed table games surround the bar, while "flair bartenders" entertain guests with their cocktail-mixing performances and signature drink creations.
The Caribbean experience continues with the Margaritaville Café, themed retail store, and coffee shop (the first in the Margaritaville portfolio). The Café features a double-height space that showcases an island-themed oasis, complete with a seaplane, palm trees, a Stiltsville home, and a buoy-shaped stage for live musical performances.
The Margaritaville theme extends to Resorts' Boardwalk façade. To complement the ground-level masonry arches, original to the 1920s building, SOSH introduced arched glazed openings to the second story. The arched components provide elegant counterparts to the fantastical shark fin/wave frieze and island hut motif that adorn the Boardwalk elevation. Indeed, a variety of seemingly contradictory materials and textures—limestone, neon, brick, thatch—create an exciting and cohesive design that ties together old and new, solid and porous, heavy and light, Art Deco and island. The resulting façade serves as both a backdrop for and a participant in the Boardwalk's lively performance.
The Landshark Bar & Grill capitalizes on its amazing beach location. The design features retractable walls to create views of the ocean and Boardwalk. Awnings on the outside deck shield open-air diners from the summer sun and emit heat in cooler months. Linear wooden planks appear throughout the Bar & Grill, comprising a large portion of the interior floor, wall and ceiling surfaces as well as the outdoor deck. These wooden elements draw the Boardwalk itself into the restaurant and bar, creating continuity between interior and exterior. Guests experience the activity of the Boardwalk, beach and pier as one continuous celebration.
Owner: Resorts Casino Hotel
Architects of Record: SOSH Architects
Interior Designer: McBride Design
General Contractor: Massett Construction
Total Investment: $35 million