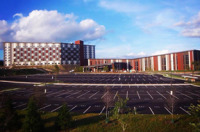 When the Eastern Band of Cherokee Indians opened Harrah's Cherokee casino hotel at the back door of Smoky Mountain National Park, it was a saving grace for the tribe. Long a remnant of a great tribal nation, the casino allowed the tribe to regain some of that stature by becoming the largest employer in the western end of North Carolina.

But with unemployment raging in the south-central part of the state, and the Cherokees looking for another location, the idea for Harrah's Cherokee Valley River Casino and Hotel was born. Once again, the Cherokees turned to the Cuningham Group, which had designed all phases of Harrah's Cherokee.

Like Harrah's Cherokee, Cuningham Group held tightly to its motto, "Every Building Tells a Story," with Harrah's Cherokee Valley River.

Brett Ewing, a principal with Cuningham, says the company listened carefully to the Cherokees.

"For us, mindfully listening and asking the right questions is critical to coming up with the right design solution," he says. "Our designers then extract metaphors from the story to find inspiration for all aspects of the project from basic forms and shapes to materials and colors. Metaphors are found in stories of context, site, history and/or culture, and our challenge as designers is to transform those into distinctive and timeless forms. Since no two stories are alike, no two buildings are the same."

At Harrah's Cherokee Valley River, Cuningham had many stories that translated into a dramatic hotel and casino. Located near Murphy, North Carolina, and the closest casino to Atlanta, guests can enjoy more than 1,000 slots and 70 traditional table games. The property offers a seven-story, 300-room hotel tower with unique F&B experiences, as well as Harrah's Total Rewards benefits.
Owner: Eastern Band of Cherokee Indians
Operator: Caesars Entertainment
Architect: Cuningham Group
General Contractor: Owle Construction LLC
Investment: $110 million