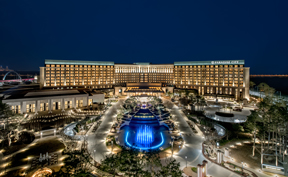 Paradise City, the first fully integrated resort complex in Northeast Asia, opened in April, close to the Incheon International Airport, 90 minutes from Beijing, Shanghai and Tokyo and 40 minutes from Seoul.
Lifescapes International designed the landscape environment for Paradise City, infusing vibrant landscaping throughout the main resort-style pool, complete with an outdoor bar and private cabanas for an exciting nightlife setting.
The firm also designed a large Las Vegas-style main entryway, wedding gardens, private villas and gardens that flow throughout the interior and exterior of the project.
Lifescapes understood the project must highlight South Korea's rich cultural identity while also appealing to international business. By integrating a diverse range of native plants, Lifescapes preserved the integrity of the cultural experience while also bringing the excitement of Las Vegas to drive tourism and put South Korea on the map for international travelers.
"As Korea's first 'art-tainment' integrated resort, Paradise City offers an unparalleled guest experience," says Julie Brinkerhoff-Jacobs, president of Lifescapes International. "This mega-resort combines a diverse range of hospitality, gaming, art and retail amenities, allowing guests to experience luxury, beauty and entertainment like no other in Northeast Asia."
Established in 1958, Lifescapes International Inc., based in Newport Beach, California, has been a significant design influencer for casinos and destination resorts, mixed-use developments, commercial, retail centers, entertainment-driven projects and residential projects worldwide.
The firm, which employs more than 40 talented professionals, has designed the landscape for more than 15 casino resorts on the Las Vegas Strip, as well as an additional 80 casinos and resorts across the United States, Asia and Europe.
For more information, visit lifescapesintl.com.