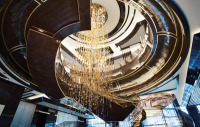 Talk about sophisticated marketing.
When the Solaire Resort & Casino opened in Manila in 2013, Bloomberry Resorts Corp. and Steelman Partners took an innovative approach to the lavish $1 billion-plus resort, the first of four to be developed in the capital's Entertainment City.

A distinctive "stratified" design featured lobbies and entryways for each of four guest segments, with games, restaurants and bars tailored to each customer category. The approach was and is unique to Solaire.

"Today, we design casinos into distinctive segments," explains architect and Steelman Partners CEO Paul Steelman. "In the near future, the casino will be designed in segments that allow a millennial to have a unique experience too. That experience will not be able to cohabitate with a 60-year-old slot player."

As for results, the numbers don't lie. In July, Entertainment City resorts recorded overall gross gaming revenue of PHP7.2 billion (US$155 million), up 25 percent year-on-year for the sector's third best month ever.

"Casinos are changing drastically in almost every way, from planning to design to operations to marketing," notes Steelman. "It's a whole new world."
For more information, visit steelmanpartners.com.