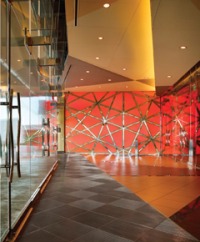 Construction Specialties is a global leader in architectural and engineered products. The company's mission statement—"Creating products that make buildings better"—is more than a tagline. It's the ultimate articulation of C/S's dedication to helping the architect create innovative yet practical and sustainable architecture. As the leading manufacturer of high-quality architectural specialty products including Pedisystems and Floorometry Entrance Flooring, Acrovyn Wall and Door Protection, Louvers, Sun Controls, and Expansion Joint Covers, Construction Specialties has served the commercial building community with innovative solutions to building problems for more than 60 years.

The company's entrance flooring systems include Pedisystems, GridLine and Floorometry, which can be found in many of America's most prestigious hotels, casinos, airports and office buildings. Architect Floss Barber specified Floorometry at the entrance to the SugarHouse Casino in Philadelphia, Pennsylvania. Stunning Floorometry 101 stainless steel floor panels (18-inch by 18-inch) have been installed in SugarHouse's entrance at a 90-degree angle to coordinate with the design of the casino's interior floor and wall. Construction Specialties' Gridline Stainless Steel Grids also can be found at the entrances of the Aria, Vdara and Mandarin hotels in Las Vegas' CityCenter.
To see Construction Specialties' entire collection of Entrance Flooring systems, visit www.c-sgroup.com or call 800-233-8493.