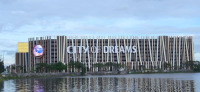 Entertainment City, a collection of four $1 billion-dollar-plus integrated resorts, has been a dream of the Philippine Amusement and Gaming Corp. (PAGCOR) for the last decade. On reclaimed land next to Manila Bay, the dream came to life in 2013 with the opening of Solaire, a property owned by a company controlled by Philippine billionaire Ricky Razon.

In late 2014, City of Dreams Manila debuted, a joint venture between Melco Crown Entertainment of Macau and the Belle Corp., a subsidiary of Henry Sy's SM Investments. Melco Crown bought into the project—originally designed as the Belle Grande Manila—after construction was under way, but still managed to put the Melco Crown signature upon it.

Working with architect firm Asya Design, interior design firm Arlen P. De Guzman Design Associates and general contractor Leighton Contractors, Melco Crown added and subtracted elements to present a truly unique experience for its Philippine customers.

Three hotels grace the property: Crown Towers, Hyatt and only the second Nobu hotel in the world. Nobu, whose owners include noted Japanese chef Nobu Matsuhisa, actor Robert DeNiro and others (now including James Packer's Crown Resorts), is a luxury hotel that includes a Nobu Restaurant, an extensive spa and fitness center and the Nobu pool.

The casino includes a VIP Club, a Signature Club and a PokerStars card room. Several levels of dining are included. In addition to Nobu, the Tasting Room and Crystal Dragon cater to the high end. Wave and Red Dragon present casual fare, and other restaurants cater to other demographics and price points.

Dreamworks' DreamPlay is a unique interactive play center where kids of all ages can connect with their favorite characters. Play games with Kung Fu Panda, Shreck and Donkey. Ride a dragon. Enjoy the antics of the Penguins of Madagascar. All in one venue.

Bars and nightclubs include Centerplay on the casino floor, along with the clubs Pangea and Chaos.

Two more integrated resorts are set to join Solaire and City of Dreams within the next few years, but Manila is fast becoming a major gaming hub for the Asia-Pacific region.
Owner: Melco Crown Entertainment and the Belle Corp.
Manager: Melco Crown Entertainment
Architect/Designer: Asya Design
General Contractor: Leighton Contractors
Investment: $1.3 billion