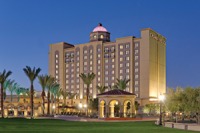 The Innovation Group of Companies' broad range of expertise and experience covers almost every aspect of the casino/resort economic development process: The Innovation Group to consult; Innovation Capital to finance and advise; Innovation Project Development to coordinate build-out; Innovation Marketing to position; and Innovation Management Services to help operate.

The group also includes Innovation Food & Beverage and Innovation Sports & Entertainment, dedicated advisory practices supporting all affiliates. Working together or independently, the affiliates of the Innovation Group of Companies offer a wide array of advisory, operational, management, financial, development and marketing services to help clients maximize both strategic and implementation alternatives.

The Innovation Group of Companies affiliates have been behind the scenes of many of the world's largest gaming, entertainment and hospitality developments, including projects in 80 countries and on six continents. The companies' collective client list features the most successful operators in the industry, including public and private corporations, more than 100 Native American tribes, government entities, professional associations, developers, legal organizations, financial institutions and private equity investors.

The Innovation Group is the premier provider of consulting and management services for the gaming, hospitality, leisure and entertainment industries. Services include market and financial analysis, legislative and litigation support, economic diversification strategies and other related advisory services.

Innovation Capital is a leading middle-market investment banking firm. Services include mergers and acquisitions, financial restructurings and recapitalizations, corporate finance and capital raising, and valuations and fairness opinions. It is a member of FINRA/SIPC.

Innovation Project Development is a multi-disciplined project management services company capable of providing a full range of development guidance. As an owner representative, IPD helps clients maximize their investment and revenues and meet aggressive schedules and budgets.

Innovation Marketing is an experienced advisory team that leverages the unparalleled consultancy, analysis and insight of The Innovation Group of Companies into effective marketing tactics. Services include advertising campaigns, online strategies, database mining, public relations plans, direct marketing campaigns and more.

Innovation Management Services was formalized to provide the gaming, entertainment and hospitality industries with solutions for interim and short-term crisis management support. Services include operations evaluations, pre-opening/post-opening, turnaround implementation, systems and reporting and transition services.

For more information visit www.innovationgroupofcompanies.com.