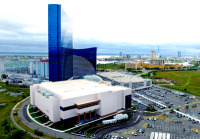 ATLANTIC CITY_NJ_SEPTEMBER_11: Exterior images of Harrah's new Waterfront Conference Center, Harrah's Atlantic City on on Friday September 11, 2015 Photo: Tom Briglia/ PhotoGraphics
Back in 1929, the opening of the Atlantic City Convention Center on the Boardwalk of that famous town recognized that the city needed a place where people could attend meetings and shows in the off-season to keep the city's hotels full year-round. Now called Boardwalk Hall, the venerable building still entertains.

In the 1980s, a second convention center was built in Atlantic City for the same reasons, and it has served the same purpose, despite the slump and casino closures in the gaming industry there.

But the need to fill rooms in the winter and shoulder seasons goes beyond one citywide center, so executives at Caesars Entertainment decided a building more focused on its properties was essential. So it was decided that the Waterfront Conference Center at Harrah's Resort Atlantic City was a good investment.

Harrah's Resort is one of the city's most successful properties, even during the gaming downturn of the 2010s. With attractions such as The Pool at Harrah's, a multi-purpose space serving many needs, retail, dining and gaming, the property's 2,000 hotel rooms needed a boost. The Waterfront Conference Center provided that boost immediately.

When it opened in September, Caesars Entertainment CEO Mark Frissora said that more than 90,000 room nights had already been booked for the next year, compared to only 7,000 the previous year.

"For Atlantic City, this is an opportunity to attract a new type of customer to the city and significantly increase hotel occupancy, as well as drive revenue for local restaurants, retail outlets and other businesses," he says.

The Waterfront Conference Center, at over 100,000 square feet of meeting space, is now the largest conference-hotel complex from Baltimore to Boston, providing an attractive new option for the $280 billion national meetings industry that has a $16 billion foothold in the Northeast.

The Harrah's Waterfront Conference Center can accommodate up to 5,000 attendees and has the flexibility to convert from meetings, to banquets, to large assembly spaces. The 100,000 square feet of flexible meetings space offers versatile area volume that can be broken down into 56 separate small meeting rooms with up to 300 different configurations—reception, banquet and pre-function space.

With Atlantic City counting less on gaming revenue, it is hoped that the Waterfront Conference Center will inspire other of the city's casinos to get into the meetings and conventions game.
Owner: Caesars Entertainment
Architect: Friedmutter Group
Contractor: T.N. Ward Co.
Investment: $126 million