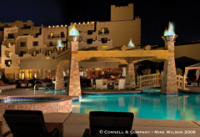 Thalden-Boyd-Emery Architects designs casinos, resorts and hotels. Founded in 1971, the firm has grown from its small beginnings to one of the top design firms in the hospitality industry, according to Hotel & Motel Management magazine. Partners Barry Thalden, Chief Boyd and Richard Emery have built a team of experienced hospitality architects and design professionals.
Thalden-Boyd-Emery offers architecture, engineering, interior design, theming and master planning services to some of the world's largest gaming operators as well as to Native American casinos.
High-profile past projects include the Hard Rock Hotel & Casino Resort in Tulsa, Oklahoma; Venetian Resort Hotel Casino in Las Vegas, Nevada; Buffalo Thunder Resort and Casino in Santa Fe, New Mexico; Morongo Casino Resort and Spa in Palm Springs, California; and many more.

Recently in an independent nationwide survey, the Professional Services Management Journal named Thalden-Boyd-Emery Architects No. 1 in client satisfaction, from more than 77,000 eligible architecture and engineering firms. This truly is the key to the firm's vision: providing experience, creativity and personal service for each project. Forty years of success offer proof that at Thalden-Boyd-Emery Architects, they are serving their clients well.
For more information, visit www.thaldenboydemery.com.