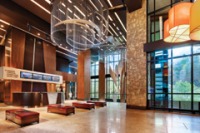 Casino
Harrah's Cherokee Casino
Cherokee, North Carolina

OWNER: Eastern Band of Cherokee Indians
ARCHITECT & DESIGNER: Cuningham Group Architecture, P.A.
CONTRACTORS: Turner Construction Co. and Yates-Rentenbach Construction
TOTAL INVESTMENT: $650 million
Imagine a meandering stroll through the breathtaking beauty of the Great Smoky Mountains, passing through mountains and woodlands, and along rivers and streams. Visitors to Harrah's Cherokee Casino in western North Carolina are enjoying that experience—metaphorically speaking—as the $650 million rebirth of this destination casino-resort, the sixth-largest construction project in the nation, moves forward toward completion in 2013.

Tom Hoskens, vice president, Cuningham Group Architecture P.A., says his firm designed the original lodge-like casino-hotel in 1995. Some renovation work was done in 2001 and every couple of years after that.

"But five years ago the client said they wanted to totally update and expand the property into a modern mountain lodge," Hoskens says. "We are creating something unique and distinctive by marrying the natural beauty of the mountains with metaphors to translate that experience to people as they walk through."

A perfect example of the Cuningham philosophy, "Every building tells a story," the property's picturesque setting is providing the firm with unlimited design inspiration. Outside, the expansion reflects the natural dynamic of the long, layered mountain-scape. Tall spruces, oaks and river cane also characterize the site, and are incorporated into the building design. Inside, Cuningham designed four visually distinct themed zones for the casino: "Mountain Breeze" and "Woodland Moon" (both completed), and "River Valley" and "Earth Water." Each zone will offer different theme and mood through lighting, music, signage and other amenities.

The redesigned resort also will incorporate cultural elements from the Eastern Band of Cherokee Indians, including photography and paintings by Cherokee artists.

A new luxury hotel tower complements the resort's two existing hotel towers, featuring 454 standard guest rooms and 68 suites. In addition, a state-of-the-art, 3,000-seat events center is already on its way to become the leading concert and entertainment venue in the region.

The next phase of the expansion will include new restaurants and retail shops, a new high-limit gaming area and an 18,000-square-foot spa. The completed 160,000-square-foot gaming floor will be nearly double the size of the original. The "crescendo," Hoskens notes, will be a dramatic and grandiose 50-foot-high rotunda filled with tree-like structures that "come alive" with lighting and sound to provide a unique and unforgettable multimedia experience.