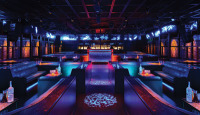 If any one facility can be said to redefine the nightclub scene in Las Vegas over the past few years, it's Hakkasan at MGM Grand. Taking the place of one of the original Las Vegas nightclubs, Studio 54, Hakkasan has had an immediate impact on the nightclub market because of its style, amenities and departure from the traditional Vegas nightclub.
With restaurants from Shanghai to Singapore to Dubai, Hakkasan has been making a name for itself in modern cuisine and design since it was founded in 2001 in London. The brand's new Las Vegas restaurant and nightclub is one of its largest endeavors to date, both in scope—turning a 27,000-square-foot, two-floor space into a five-level, 80,000-square-foot venue—and because the location is its first nightclub.
Hakkasan and Angel Management had a unique vision for the brand's inaugural nightclub. The design philosophy focused on creating multiple experiences and involved steering away from the traditional Vegas glitz and sparkle and gave the space a more subdued, organic look that differed from other nightclubs in Vegas.
Designers worked with Hakkasan to select genuine building materials, such as real leather instead of vinyl seating, and natural stone, slate and granite for the walls, water features and floors. Other authentic craftsman materials were sourced from Asia, including the red lacquer, hand-carved Chinoiserie panels that mark the entry to Hakkasan's Ling Ling Club and Lounge.
Located on Level 3, the 2,300-square-foot Ling Ling Lounge includes a low, intimate ceiling, full-height stone-jetted wall panels that divide the space, a DJ booth and its own golden lit bar.
To get to the main nightclub, guests pass through a small, alley-like entrance reminiscent of Hakkasan's London roots. Upon entering the massive club, guests are surrounded by tiered banquet seating, which provides great visibility to the dance floor and DJ from anywhere in the club. Finally, a fifth-floor mezzanine hovers above the main club and gives guests a birds-eye view of the fourth-level main club and pavilion.
A curved, spider-web ceiling of LEDs installed in the nightclub houses computer-controlled panels, which can be lit to create a variety of stunning patterns and effects, including a whole room of color.
The result is an innovative entertainment space that can be transformed at the flick of a switch.
If you look at traditional Las Vegas clubs, they'll be really hot for three to nine months, but after a year, they have to revamp so that they have a fresh, new and exciting look. Hakkasan was designed with enough depth to be a sustainable fixture on the Strip.
Owner: Hakkasan Limited
Nightclub Representative: Angel Management Group
Architect: YWS Design and Architecture
Interior Design: 212 Design, conceptual design, nightlub; Gilles & Bossier, restaurant
Builder: McCarthy Building Companies, LLC
Total Investment: $115 million