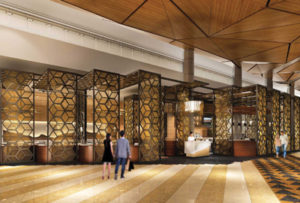 The $285 million renovation of Pechanga Resort & Casino is a meaningful development for the Pechanga Band of Luiseño Indians, who operate the property on their tribal reservation in Temecula, California.
The comprehensive overhaul was undertaken for good reason: the resort, which opened in 2002, is consistently 100 percent occupied with a lengthy waiting list, and even in slow months is forced to turn away thousands of would-be guests.
The expansion will add a 568-room, AAA four-diamond hotel tower; a 23,000-square-foot, two-story standalone spa; a 4.5-acre family-friendly pool area; a 67,000-square-foot convention and event center; and two new food and beverage outlets, including a poolside bar and grill, among other amenities. The property's five-level, 2,400-space "intelligent" garage, complete with way-finders and charging stations, opened in April.
The impressive upgrade will enable the tribe to keep pace with its many competitors in Southern California; by the end of 2017, the expanded resort will offer more than 1,000 rooms, making this the largest hotel in the Golden State.
The additions could mean a total economic benefit to the region of about $550 million, and will also add some 750 new jobs. "This is great news for Riverside County," says Carrie Harmon, deputy director of Riverside County's Workforce Development Division. "This announcement demonstrates Pechanga Resort & Casino's presence as a large-scale employer and an economic driver for the Southwest region."
The Pechanga have also introduced a new, digital-friendly logo: the letter "P" with a sleek, stylized feather silhouette. "This new logo is modern, elegant, and captures the essence of Pechanga Resort & Casino: laid back luxury," says Edith Atwood, president of the Pechanga Development Corp. "This new look and feel is all about positioning Pechanga Resort & Casino for the future."
Owner-Operator: Pechanga Band of Luiseño Indians
Architect: Delawie
Logo/Branding Design: Troika
Investment: $285 million