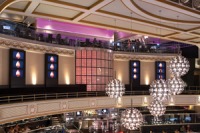 Online poker has in turn revived and harmed bricks-and-mortar casino poker rooms. The game has received more interest from online poker, but it allows players to play anywhere, so in some ways, it's a wash.
The operators of London's chic Hippodrome casino came up with a way to combine the best of both worlds. In partnership with PokerStars, Hippodrome has introduced the PokerStars LIVE "gallery," which is used as the casino's poker room as well as a site for live PokerStars tournaments.
Developed by MKV Design, the team imaginatively interpreted this interactive, online poker room into an exciting physical presence. MKV was tasked with developing a room that would embody the PokerStars online presence so it would be recognizable to website players. MKV took this idea a step further by creating a refined, pared-back ambience with a modern, tech-savvy style.
The poker gallery is situated on a mezzanine overlooking the Hippodrome's ground-floor gaming areas four stories below. Located in the heart of London's entertainment scene, just by Leicester Square, the casino is housed within an iconic, historic building created by renowned theater architect Frank Matcham. It was essential that MKV's design was sympathetic to the historical aspects of the original 1900 structure, including the stepped, open-gallery spaces, which remind visitors of the site's legendary provenance. It was here that Tchaikovsky's Swan Lake made its U.K. debut, Julie Andrews launched her professional solo career, and Harry Houdini performed some of his final magic acts, among other notable milestones.
Color and light psychology were also important considerations in the interior design. A muted palette of dark grays enables players to focus better on the tables, their hands and the action taking place. Gaming tables were custom-upholstered with silver-toned baize, and carpeting reminiscent of flannel tweed helps create a more sophisticated feel. Along the back wall, a grid composed of angled "fins" formed from sturdy, charcoal painted metal is backlit by a wall-to-wall, internally illuminated box fitted with LEDs. The glowing, ethereal light, which emanates from the wall, helps create a subtle allusion to the idea of the digital network of PokerStars' virtual world. Shifts in color from yellow to red to blue have been programmed to cycle over the course of an hour, but can also be precisely timed by the operations team to create a variety of moods. Soft illumination from the ceiling soffit overhead is synchronized to adjust with that of the accent wall.
Another specification of the brief was that the use of the words "PokerStars" would be closely regulated. Therefore, MKV chose to weave associations with the brand into the design to reinforce the brand identity. Existing chairs have been re-upholstered with black leather subtly highlighted by the PokerStars emblem stitched into their backs with silver thread. This tone-on-tone effect, versus high-contrast embroidery, helps set the refined, urbane atmosphere envisioned by MKV.
PokerStars LIVE has proved such a success that MKV's concept is being rolled out to other new sites, including the poker room just launched at the Casino Gran Madrid. Dominic Barber, associate at MKV Design, explains, "Creating the blueprint for the PokerStars LIVE concept has been a 21st century twist on interior design. The idea of a tangible space mirroring a virtual world, rather than a website being modeled upon a physical destination's brand identity, poses new opportunities for today's designers. There are increasingly blurred lines between real-life and virtual environments, which opens up all sorts of creative possibilities and offers designers a wealth of inspiration."
OWNER: The Hippodrome Casino Ltd. and PokerStars
Architect and Interior Designer: MKV Design