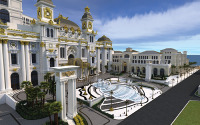 One of the world's most profitable casinos is also one of the newest, tucked away on a tiny island in the Pacific Ocean.

Only 12.5 miles long and less than six miles wide, Saipan is the principal island of the Commonwealth of the Northern Marianas, a U.S. territory.

The Best Sunshine Live casino, which opened on the island in 2015, is only a temporary facility with just a handful of VIP tables. It doesn't even have a hotel. But according to reports, the gaming hall already ranks No. 4 in the world for VIP rolling chip revenue, a figure based on turnover of about $2 billion a month.

With that level of patronage and success, Hong Kong-listed Best Sunshine International, a subsidiary of Imperial Pacific International, is comfortable investing a total of $3.1 billion in an opulent permanent resort, with Phase I set to open in early 2017, just in time to celebrate the Chinese New Year.

The lavish integrated resort on Saipan's western coast promises an atmosphere of unsurpassed elegance. It will include regal façade treatments reminiscent of the grand palaces of Paris, with crystal dragons standing guard in the grand lobby. The casino, with up to 300 gaming tables and 400 slot machines, will feature towering golden columns and gilded stone panels. Sky-lit gaming balconies will overlook the formal garden seascape.

The natural surroundings are just as impressive. Saipan is a true tropical paradise, formed by a rising coral reef with soft white-sand beaches, crystal-blue water and a balmy climate (with air and water temperatures of about 80 degrees Fahrenheit year-round).

The island is also less than five hours by air from most major cities on the Chinese mainland, and to make it even easier for inbound visitors, the territory allows 45 days of visa-on-arrival entry for Chinese tourists.

To date, most of Best Sunshine's direct VIP patrons hail from mainland China, Hong Kong, Macau, Korea and Saipan, the company has stated. Imagine what will happen when they can actually check in for the night.
Owner: Imperial Pacific Holdings
Architect: Steelman Partners
Total Area: 140,000 sq. meters (35 acres)
General Contractor: Sundt/Yates JV
Investment: $3.1 billion