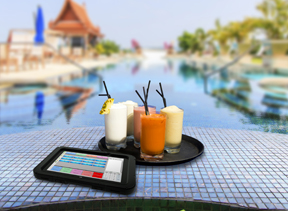 Casinos looking to take their POS mobile should get their hands on full-featured mobile POS experience—InfoGenesis Flex by Agilysys.
Entertainment facilities are under pressure to differentiate their guest service from that of competitors. And guest expectations continue to increase with a growing population that demands greater convenience. In fact, according to a recent Forrester Research report, consumers will own 257 million smartphones and 126 million tablets by 2018. And that's just in the U.S.
Serving this population in a more meaningful and quicker fashion is where InfoGenesis Flex shines. Whether they accommodate dozens of guests or thousands, businesses succeed when they appreciate the value of every single relationship. POS mobility helps forge those lasting guest relationships.
Let InfoGenesis Flex, the leader in POS mobility, do all the work:
• Boost guest spending with mobile tablets that facilitate order placement and payment acceptance. Servers are available to satisfy guests' immediate requests while providing faster service.
• Accommodate more guests by augmenting stationary terminals with mobile alternatives that use the same unlimited POS functionality. With broad temperature tolerance, drop- and shock-resistance and long battery life, taking more orders is easy.
• Count on unprecedented payment security with PCI-validated P2PE (point-to-point encryption) when integrated with rGuest Pay.
• Enjoy 24/7 access to advanced support from an established industry leader with a reputation for quality and a proven track record of exceptional customer service.
For more information about InfoGenesis Flex, email sales@agilysys.com or call 877-369-6208.