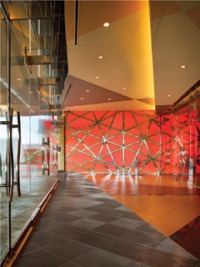 Entryway Flooring, SugarHouse Casino
Philadelphia, Pennsylvania

OWNER: HSP Gaming, Inc.
ARCHITECT: Cope Linder Architects
INTERIOR DESIGNER: Floss Barber Inc.
ADDITIONAL DESIGN: Construction Specialties, Inc.
CONTRACTOR: Keating Building Corp.
TOTAL INVESTMENT: $550 million*
*Cost is for entire temporary casino. Costs of individual elements not released.
Walk into the SugarHouse Casino in Philadelphia, Pennsylvania, and one of the design elements that may catch your eye is below your feet. The floor of the main entryway is integral to a brightly colored, modernistic design that draws you into the property, which opened last year.

But what you may not realize is that the attractiveness of the floor is helped along by technology. Immediately inside the front doors is a stretch of angled metallic tiling that blends seamlessly with the brightly colored floor within. The tiles are made from a flooring element known as "Floorometry."

Introduced two years ago by Pennsylvania-based Construction Specialties, Inc., Floorometry is a modular flooring constructed of a stainless steel grid system that traps dirt and water before patrons reach the main floor of the facility.

"This is a brand-new take on entrance flooring that utilizes high-end finishes in custom geometric configurations," explains Curt Fessler, marketing and product development manager for Construction Specialties. "It follows the geometry in the floor art in your entranceway, and makes a first impression with a very functional product. It's a perfect fit for higher-end projects like casinos."

Renee Hite, facility sales target account manager at Construction Specialties, adds that the geometric configuration protects the interior flooring by absorbing dirt and water at the point of entry. "Floorometry 101 has a linear shape that allows a huge amount of dirt and water to fall through and be captured underneath the tile," she says.
Fessler says this drainage technology is a particular advantage at SugarHouse, where customers track the Philadelphia winter inside. "Just look at the other materials chosen for the SugarHouse project," he says. "It's a really nice, ceramic glass tile. That's not the kind of flooring finish you want damaged because you're letting dirt go further into the building than the doorway."

The 18-by-18-inch tiles fit the floor design because of their linear design, which matches seamlessly into the rest of the floor application. "They used a very bold, abstract linear theme, so the look of the product in the entryway provided the metallic look they were seeking," he says.