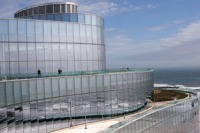 SOSH Architects was founded in 1979 on the core conviction that quality design continually rewards the community, the client and the design team. The firm has steadily grown from a company of four partners to its current size of approximately 60 design professionals engaged in the execution of major master planning, architecture and interior design commissions worldwide. The company philosophy drives a design process that values exploration, visualization and the contributions of multiple voices consistent with their belief that the best design solutions are the result of thoughtful collaboration.

SOSH's principals—Thomas J. Sykes, Thomas J. O'Connor, William A. Salerno and Nory Hazaveh—continue the commitment of personal involvement in each project. With offices in Atlantic City and New York, SOSH Architects has established a worldwide reputation for master planning, architectural design, interior design and strong project delivery achievement.

For three decades, SOSH Architects has had the opportunity to work on an impressive array of hospitality design projects. From master planning to restaurant renovation, from new tower construction to resort expansions, SOSH has handled every aspect of hotel and casino design on multiple properties in the major urban markets of New York, Philadelphia and Atlantic City, as well as in Califor-nia, Arizona, Nevada, Mississippi, Indiana, Louisiana, Connecticut, the Caribbean, Europe and Asia. Gaming floors, hotel rooms, restaurants, nightclub and entertainment venues, ballrooms, retail stores, lounges, pool and spa retreats, administrative support space, food service facilities and daycare centers all can be found on the same property, and each use brings with it a unique set of challenges and technical requirements.

Ongoing or recently completed projects include: Revel Resort in Atlantic City, which premiered in May 2012; several projects for the Seminole Hard Rock Casinos on the East Coast; Scioto Downs in Columbus, Ohio; the phased master plan expansion to Fantasy Springs Golf Resort in California; and the first phase of design for a resort in the Bahamas. The success of the Spotlight 29 Casino near Palm Springs, California and the collaboration that resulted in the property's stunning design have been recognized by the Sarno Awards, which awarded first prize for casino design.

For more information, contact SOSH at 1020 Atlantic Avenue, Atlantic City, NJ 08401, 609-345-5222; or 145 West 57th Street, New York, NY 10019, 212-246-2770; email sosh@sosharch.com or visit www.sosharch.com.