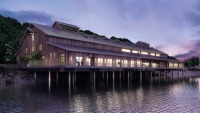 Sited just below the historic Roth Hill in Natchez, Mississippi, Magnolia Bluffs Casino was built over the Mississippi River to comply with the state's gaming regulations. The project is supported on nearly 50 steel piles, giving patrons the feeling that they are floating on the river and providing a real connection to the site often overlooked in typical casino designs.
Using rustic materials and local vernacular, EV&A Architects collaborated with the Natchez Historical Society to replicate an early 20th century cedar mill that was located here nearly a century ago. A municipal pedestrian river walk winds itself around the building's riverside perimeter, providing access to the casino's "back-porch" amenities, complete with a fire pit and breathtaking views of the Mississippi and majestic sunsets.
The project's interior further reinforces the treasured history of this site by displaying historical art pieces of the mills that once were an integral part of the river's landscape.
The 40,000-square-foot facility features an open gaming floor with 600 slot machines and a complete complement of table games. A centrally located sports bar, a 180-seat themed buffet and a 75-seat fine dining specialty restaurant complete the project's offerings.
Owner: Premier Gaming Group
Architect and Interior Designer: EV&A Architects, Inc.
Contractor: RA Edgin Construction
Program Manager: John Fox, FOXCOR
Cost: $25 million