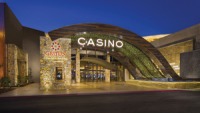 Station Casinos, which manages the operations at the Graton Resort & Casino in Rohnert Park, California, has a signature design style for its upscale casinos in Las Vegas, using the natural elements of the surrounding environment. Red Rock Casino Resort reflects the rich earth tones and beauty of the nearby Red Rock State Park, and Green Valley Ranch on the east side of town has the suburban serenity and neighborhood welcoming atmosphere.

The Friedmutter Group of Las Vegas is the "go to" designer for Station, and was responsible for the natural incorporation of Graton into the nearby Sonoma wine country.

While there are many tribal casinos in California, there are none closer to the Bay Area, just 50 miles from the Golden Gate Bridge. With this location and easy access off the freeway, Graton has been successful since the start. But it's been the design that has pleased the crowds. The design was a result of a unique collaboration among Station Casinos, the Friedmutter Group and the Federated Indians of Graton Rancheria, particularly its visionary chairman Greg Sarris.

The team decided to incorporate a "California casual elegance" theme, which included the resort's natural surroundings. The exterior lines of Graton Casino Resort emulate the famous landscape and give the impression of the gentle foothills in the distance. The natural materials of the façade, including stone, aged dark woods and copper panels, are complemented with vertical gardens in living green walls, together creating a linear hillside.

Waterfalls that may appear through the hills are imagined in the water features framing the porte cochere, adding further depth and integration of nature. Hill formations frame the entries, creating a natural pathway into the property. The surrounding environment is well-represented with generous use of indigenous color and materials. California varietal flowers abound within stone and greenery, and, along with Sonoma's beautiful scenery, provide bountiful inspiration, as Graton Casino Resort becomes a natural addition to the landscape.

The design includes warm modern lines, and vivid striking colors throughout the welcoming space, setting the tone and atmosphere of sophistication found throughout the Northern California region. The natural elements of the surrounding Sonoma County were the inspiration for the flowing ceiling elements (reminiscent of the rolling hills of wine country), and flowers in the carpet and terrazzo flooring were inspired by the many colorful floral varietals and botanicals found in the area.

Although the resort currently lacks a hotel, it makes up for it in non-gaming amenities like spectacular restaurants, including such Bay Area favorites as Tony's of North Beach and Martin Yan's M.Y. Noodles. The Marketplace includes eight eclectic choices from burgers to barbecue to pizza and ice cream. Three bars and lounges and an event center round out the offerings.

The gaming is, of course, the centerpiece of the property, with 131 table games and more than 3,000 slot machines scattered over more than 300,000 square feet.
Owner: The Federated Indians of Graton Rancheria
Operator: Station Casinos
Architect: The Friedmutter Group
Investment: $820 million