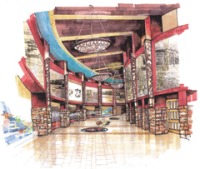 Camel Rock Casino
Santa Fe, New Mexico

OWNER: Pueblo of Tesuque Tribe
DESIGN ARCHITECT: ICI Design Group, Minnesota, in conjunction with COST of Wisconsin
CASINO FLOOR: About 700 machines
INVESTMENT: $2 million
Make the facial seem palatial. That's the approach ICI Design Group placed on its remodeling/facelift project for 18-year-old Camel Rock Casino, owned by the Pueblo of Tesuque Tribe in Santa Fe, New Mexico. The blueprint ICI gave the COST of Wisconsin group to build will produce a multi-dimensional upgrade for Camel Rock by August 30.

A budget of approximately $2 million will deliver a visually striking promenade, energized entertainment center, innovative non-smoking area and upgraded restaurant, along with several internal improvements. The upgrades should enable Camel Rock to recapture some lost business and find new revenue sources. Specific themes—an enhancement from the generic Southwest design throughout this area—should also provide the casino some spark.

Customers will notice dramatic change as soon as they step inside.

"The promenade will be the cultural and historical introduction to the property," says Keith Nichols, director of architecture for the Minnesota-based ICI Design Group. "It will be about 4,000 square feet and have the tile logo of the Tesuque tribe, light fixtures, stylized graphics and historical wall murals.

"The tile is in a buff pattern. The floor tile in the promenade is non-symmetrical. It has various size tiles to mimic the layering of the rock formations."

The entertainment center, right in the middle of the casino, obtains a fire-and-ice theme with the prevalent use of reds and blues, Nichols says. The highlight is a center bar sporting several satellite televisions. A dance floor and billiards room enhance this nightlife-friendly landmark.

Camel Rock unfurls a breakthrough mindset with its non-smoking area. It is daring, innovative and voluntary.

"The owners will institute a whole new mechanical system to take care of the air quality in part of the casino," Nichols says. "They elected to put in a brand new 25-ton air handling unit to provide fresh air from the outside. It takes a lot of the smoke away from the casino area.

"It cost about $150,000 and came as a result of requests from customers. The non-smoking area (about 2,000 square feet) will have about 100 slot machines."

The restaurant obtains a whole new look, as in buffet line, carpet, paint, tables, chairs and an entrance to the gaming floor.